Safeswap online has been in the game for a while now. Making progress with each step and achieving more every day has been the sole motto of Safeswap online staking platform. Now all decentralized networks offer a high turnover. But, with Safeswap online, you can trade, exchange and Swap to make a more significant profit.
Most people are aware of what this platform is really about. But, when it comes to beginners, they need to know about Safeswap online and how they can invest and make money out of this BSC decentralized staking platform.
What Is Safeswap Online?
SafeSwap Online is a decentralized currency exchange platform that allows users to trade multiple currencies. SafeSwap Online is a Smart Contract-based solution that directly works with metamask, trust wallet, and other third-party wallets.
SafeSwap's staking platform allows users to stake tokens or currencies in exchange for other tokens or coins. Safe Swap online implements this on its platform as a service to users and as an alternative source of passive income for a long time to stake cryptocurrencies. A total of 1 million SWAP Tokens are available. It is launched with an APY-based staking mechanism, and the Supply may increase somewhat over time.
Safeswap Online Staking Program:
SafeSwap Online provides its traders and SWAP Liquidity Holders with several interest-based income opportunities directly tied to the SWAP Liquidity Pool, SWAP Tokens, or one of our listed partners' assets. We intend to add a variety of staking and other earning opportunities.
SafeSwap's online staking platform allows users to stake their tokens and earn staking rewards. As a result, a new stream of bitcoin earnings has emerged. Proof of stake cryptocurrencies uses staking to confirm their blockchain into a secure network while retaining a degree of decentralization.
Additional Swapping Option:
The Swap Option, wholly integrated into Trust Wallet, is a simplified way of purchasing and selling tokens. Through the 1Inch Protocol integration, you can conduct Ethereum (ETH), and Binance Smart Chain (BNB) swaps as well as SafeSwap Online (SWAP token) on Trust Wallet.
Token Swap
SafeSwap uses factory smart contracts from PanCake Swap V.2 for performing token swaps. Users with access to their decentralized wallets, such as Metamask, Trust Wallet, Binance Chain Wallet or Wallet Connect for mobile users, can safely swap tokens on the Safe Swap exchange.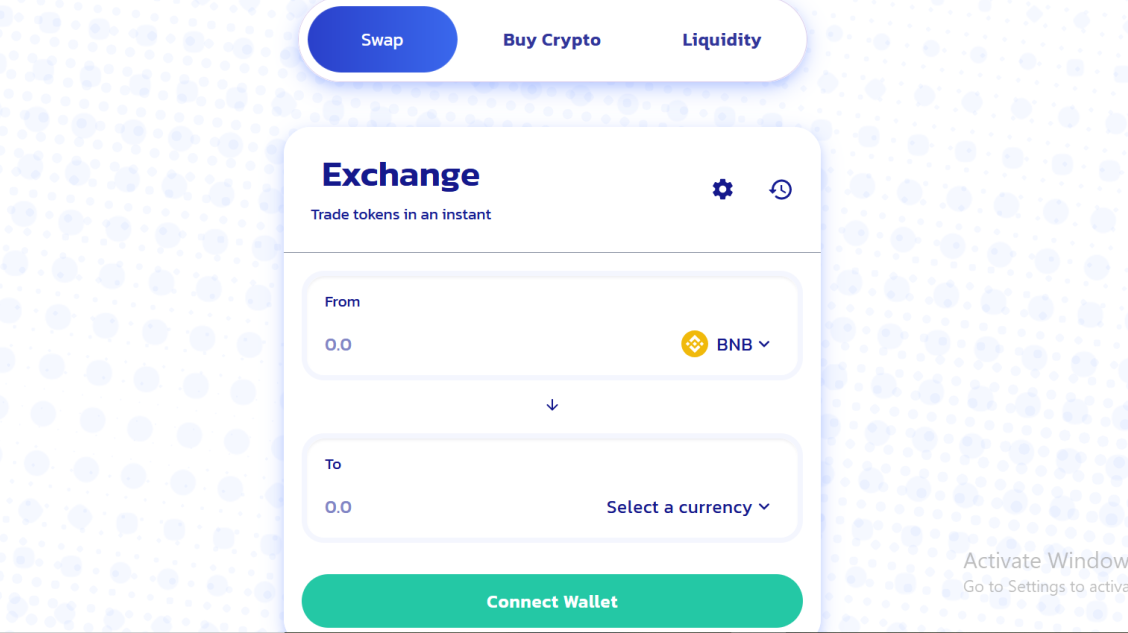 Staking Of Alternative Tokens:
Users can use the SafeSwap platform to lock and stake many alternative coins. At the moment, the options are Bitcoin Asia (BTCA), Tether (USDT), and Medacoin (MEDA).
Safeswap Online Staking Partners:
· PRCY Coin:
Coin Swap is the process of moving bitcoin from one blockchain to another at a specified rate. Because the currencies on the first blockchain may be incompatible with those on the second, a swap must be initiated to transfer users from first to second. You may now exchange SafeSwap online tokens for PRCY coins using this technology. Their other tokens, such as BPRCY, TRCY, and WPRCY, can also be swapped with SafeSwap tokens.
· Polygon Matic:
SafeSwap Online will now support staking and trading on Polygon Matic! SafeSwap Online tokens can directly be exchanged and traded on other blockchain networks besides BSC. SafeSwap Online is launching a version on Polygon, a blockchain network. The great news is that SWAP tokens will soon be available for purchase, trade, and stake on Polygon Matic.
· Pawn My NFT:
A new stake partner has joined SafeSwap Online.PawnMyNFT is a website that allows users to pawn and sell their NFTs directly from their website. People will be able to stake their PNFT to earn more PNFT in the future. A total of 20% of all PNFT has been allocated to the three staking pools.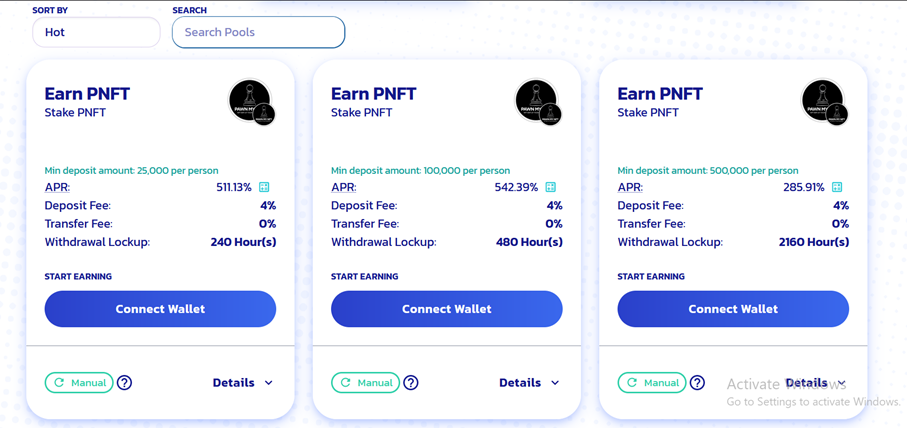 · VICE Token Staking Pool:
Vice staking pools have now been added to SafeSwap Online. VICE tokens can be staked on SafeSwap online. SafeSwap online will make the staking process for the VICE Token more accessible.
· Medabots:
Medabots are now available for trade on the SafeSwap online platform following their collaboration. Medabots will be able to trade using SafeSwap online. SafeSwap Online allows traders and holders of SWAP Liquidity to participate in various interest-based earning programmes linked to the SWAP Liquidity Pool, SWAP Tokens, or the assets of one of our listed partners.

Safeswap Online On Android Play Store:
Start using today's most distinctive and accurate SafeSwap TM rate tracking, cryptocurrency news, and real-time price notifications and reminders. "The SafeSwap Online" is the best app for staying up to date on all of the newest SafeSwap news, liquidity pools, and other important information. Start staking your tokens by downloading this app from the Google Play Store for Android.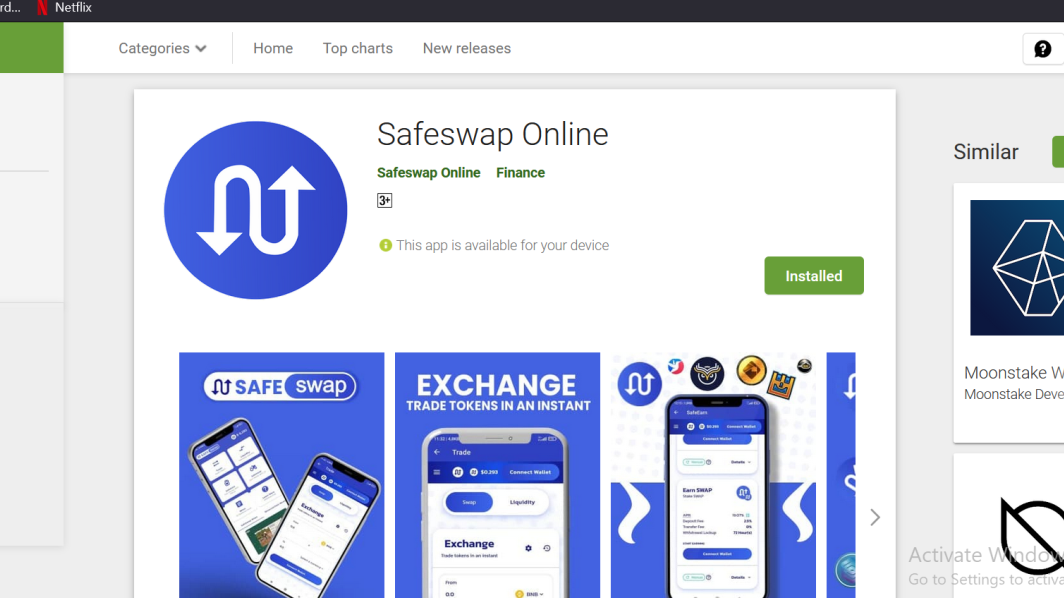 Safe Nft:
The Binance Smart Chain will host a self-incentivizing nft system that will serve as a one-of-a-kind collection of artistic combinations in segmented categories. There are four different royalty multipliers to choose from.
Supported by 10% of all SWAP Tokens
System of multi-directional incentives
NFT Collectors Bonus is a one-of-a-kind reward.
Staking Pools with Safe NFT Free Entry
Every mint, purchase, or sell from third-party marketplaces will adhere to rigorous standards for nft redistribution. Every trading method will necessitate a large percentage (at least 12,5 per cent to go back to all safe nft holders one way or another). Safe NFT is a growing NFT featuring a variety of art collections.
Every art collection is guaranteed to have a variety of rare, all of which are in sync with similar benefits. Any underlying nft category within the SAFE NFT ecosystem will receive the same benefits based on their multiplier status, thanks to SAFE NFT. In the future, different subcategory-based NFTs may have particular use cases.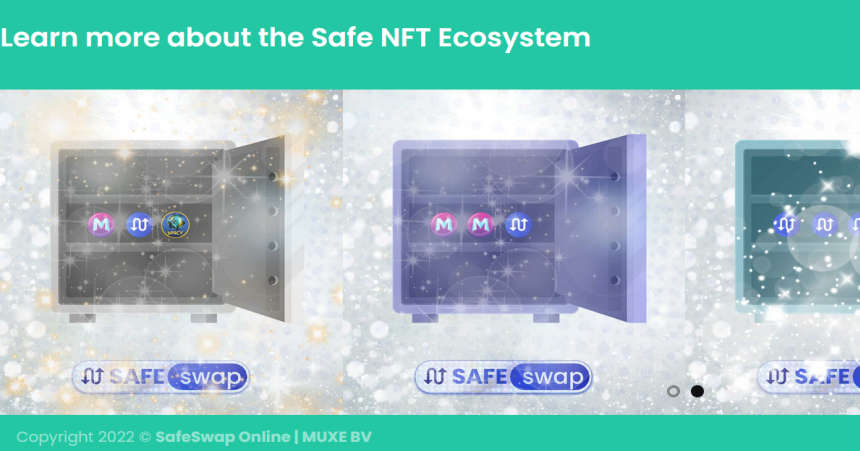 Safe Vaults:
SafeSwap online is rewarding its liquidity providers, or LPs, with extra benefits. Users can, for example, bet their liquidity-providing tokens to earn a higher annual percentage rate (APR).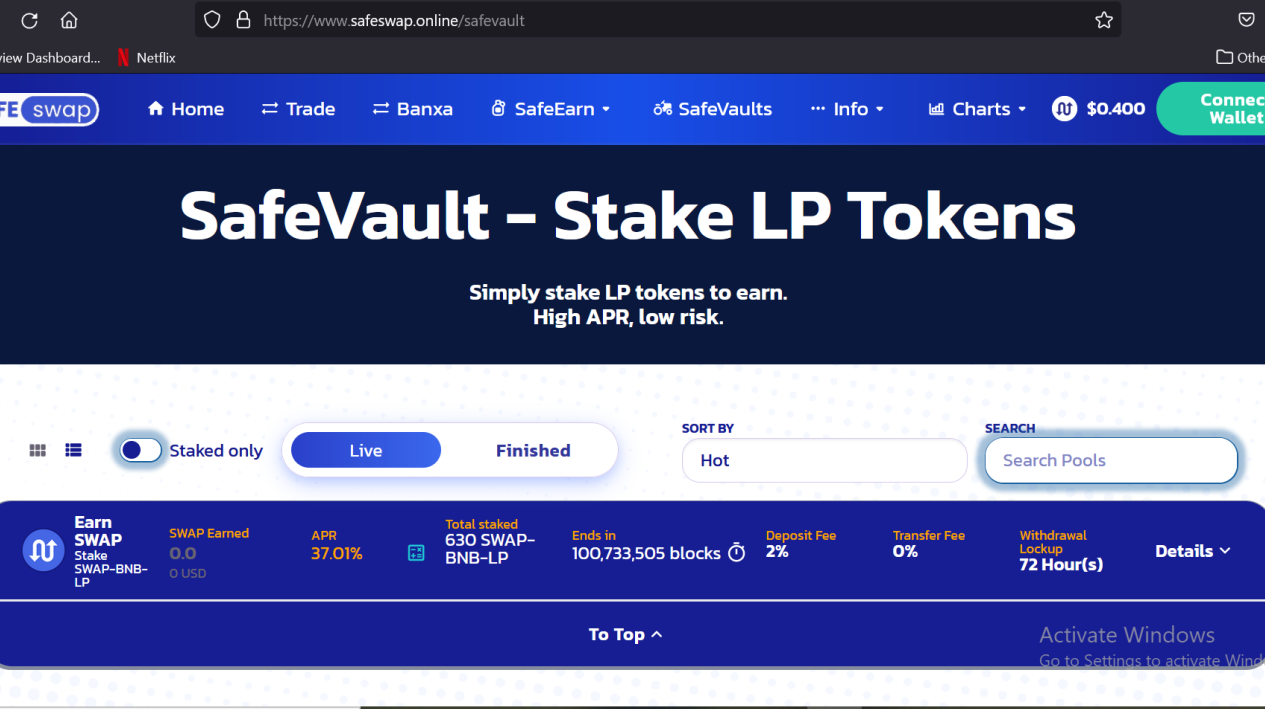 Wallets Used Of Safeswap Online:
Metamask, Trust Wallet, Math Wallet, Token Pocket, Wallet Connect, Binance Chain Wallet, and Safe Pal Wallet are among the decentralized wallets fully compatible with SafeSwap online. Wallet Connect is presently the only way for mobile users to connect with one of the following wallets.
Banxa.Com Payment Integration:
For a more accessible economic boom, a smooth system is required. SafeSwap Online has partnered with Banxa.Com to launch a payment service integration. Professionals from Banxa.com will design standards-based plug-ins and APIs that will allow users to connect to the bitcoin market in minutes.
· How To Use SafeSwap online Platform Via Banxa Payment Integration Process:
• Go to Safeswap.com and log in or create an account.
• From the drop-down menu, choose "Buy crypto with a credit card" or "Buy crypto. "A third-party payment."
• Choose Banxa as your payment option and pick your wallets to enter the amount in fiat money. Click the "Continue" button to continue.
•You must complete an authentication process if this is your first time purchasing from us online through Safeswap online. You'll enter your payment information when you've submitted your documents for verification.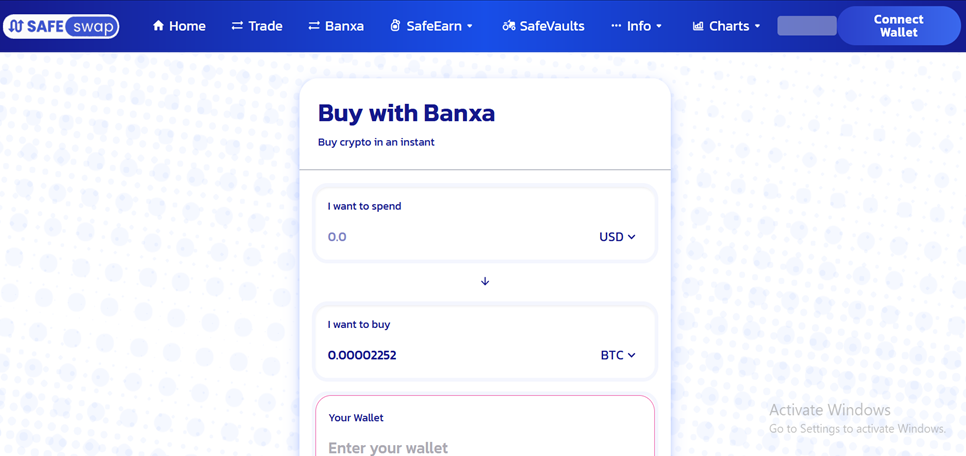 Safeswap Online And Ecologi:
SafeSwap's collaboration with Ecologi and Eden Reforestation Projects is one of their most impressive partnerships. SafeSwap online has decided to give back to nature by working with the well-known climate group. SafeSwap online has decided to work together and offer a climate change answer. Ecologi has already reforested multiple places in Mozambique, Madagascar, and Bulgaria, making it a household brand among environmentalists worldwide.
In just a few weeks, the parent firm, MUXE BV., has climbed to 8th place on the Ecologi leaderboards, demonstrating its commitment to finding a global climate solution.
SafeSwap Online and Ecologi are working together to achieve specific goals to clean up the ecosystem. SafeSwap Online partnered with Ecologi to plant over 5000 trees, to eventually plant over 995,000 trees. Every month, SafeSwap Online plans to plant over 1000 trees, with the remainder coming from trees purchased by its sponsors. Under the Safeswap Tree Plan project, Safeswap online is on a 20,000 tree plantation drive.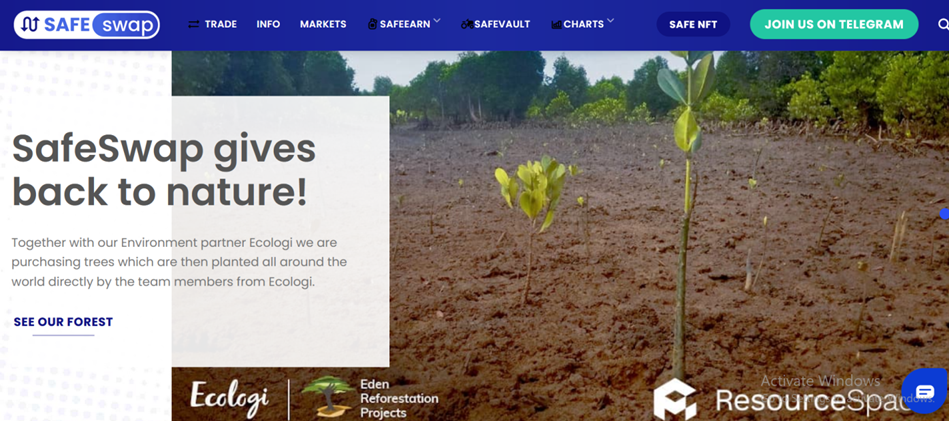 Bsc Scan Approved Safeswap Online Currency
Binance Chain and Binance.com have introduced a new decentralized machine with various valuable assets for Safeswap online customers. SafeSwap online has already worked with BSC and is listed on Bsc Scan as an approved currency. Some of the benefits of the Binance Smart Chain are as follows:
The leading decentralized exchange, Binance DEX, is at the heart of a thriving digital asset ecosystem.
Fees as low as one penny for each transaction
BSC is a high-speed network capable of producing a block every three seconds.
Methods for improving DeFi interoperability that works across chains
Several DeFi activities are supported by the Binance ecosystem, which funds and bootstraps them.
Binance.com and Binance DEX have a rapidly growing user base of millions.Bscscan.com just added Safeswap Online's ongoing development processes of globalization and digitization of international economies.Bscscan.com has the latest headlines, market forecasts, insight, ranking, and market worth for Safeswap online. Safeswap currently has a market capitalization of $0.00.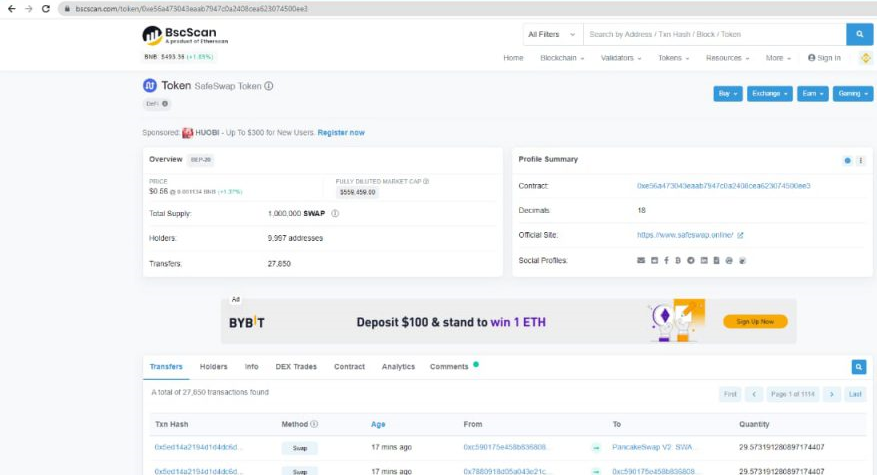 Safeswap Online Fees:
SafeSwap™ is now using PCS2's router and factory smart contracts and does not receive any revenue or trading fees. We do, however, get a share of fees on extra features like the staking mechanism, SWAP Liquidity Pool, and other features we're working on. We also want to create consistent use cases for various token projects. We may decide to partner depending on the sort of project, the team's motivations, and the founders' mutual beliefs.
Safeswap Online Audits:
1. Techrate:
SafeSwap online recognized Techrate value, and as a result, SafeSwap online was audited. Regulations that boost market transparency, particularly in electronic trading and transaction execution processes, have been criticized more than ever. Safeswap Online chose Techrate for auditing because it is both safe and secure. They thoroughly evaluate the smart contracts utilizing a line-by-line 2-stage audit and cover them with tests when generating for their clients.
• Quick:
Fast audit reports with recommendations for resolving issues and reducing risks are delivered in 10 to 5 days.
• Affordable
They offer a free express audit that checks the code for various concerns. A comprehensive line-by-line manual audit, on the other hand, is a paid service. But, because our developers are fully employed, we can keep audit rates low.
2. Audit.SC:
Staking smart contract audit online with Safeswap online. A high-end qualified AI-backed Smart Contract Auditing Service employs advanced technology to measure hundreds of smart contract operations while also monitoring the latest exploits to minimize risk.
Ranked On Multiple API Networks:
With so many bitcoin data APIs to select from, it can be challenging to know where to start. The best cryptocurrency API is determined by your needs, particularly the programming language you want to employ. Safeswap online has been listed on the following API networks:
Vietnam Coin Market Community:
The Vietnam Coin Market (VCM) is a platform that connects investors with projects. The AMA's organization and the location of project events. On the 9th of October 2021, at 2 p.m. UTC, Vietnam Coin Market conducted an AMA session by SafeSwap Online. We had two representatives at this event: @taitan296, the Admin owner of Vietnam Coin Market, and @jaimydevries, our representative from SafeSwap online.
The Vietnam Coin Market Group (VCM) was locked to make the occasion more convenient. Following Segment 3 of the Vietnam Coin Market group, the community was allowed to ask questions regarding the project in a chat room. We're pleased to celebrate the success of a one-of-a-kind AMA with SafeSwap Online.
Safeswap Online And Trust Wallet:
Other developers can use Trust wallet to create wallets based on the open-source Wallet Core. We recognize that collaborating as a community helps everyone. It is entirely transparent to view the source code and handle data on the client-side. Trust Wallet does not retain any confidential information on file. This relationship will benefit both parties and aid in the Swap token's growth.
Tokenomics
Staking systems and other features establish a charge percentage for the platform. In the following months, more material will be provided in greater depth.
Smart Contract: 0xe56a473043EaAB7947c0a2408cEA623074500EE3
1,000,000 SWAP total supply
1,000,000 SWAP in circulation
Founders:
SafeSwap online is a product initially released in early 2018 by a Dutch firm exploring and engaging with cryptocurrencies and blockchain technology. The service provider has been developing IT products and blockchain use cases in the bitcoin industry for several years.
MUXE BV founded SafeSwap online, which means the creators are entirely doxed and public. The founders of MUXE are adamant about privacy and freedom. As a result, they provide a low-entry, self-listing switching procedure that competes with centralized institutions' high-end listing criteria.
Roadmap:
The project's upcoming roadmap has gone off without a hitch. In Q3 of 2021, the SafeSwap token will be introduced, along with staking possibilities. According to the team, the Banxa Gateway has authorized the SafeSwap platform for Fiat on/off ramp integration. SafeSwap online users will be able to use payment methods that support their fiat currency in this way. There are also plans to launch a Safe NFT Collection.
It includes a self-incentivizing system that will serve as a one-of-a-kind collection of artistic combinations divided into distinct categories. Go to the official website of the SafeSwap Protocol to stay up to date on the newest developments.

Will Safeswap Provide Any Advanced Functionality?
Apart from the wonderful DeFi functionalities that we are adopting from current competitors in today's market. And that we hope to keep up with, we also have a second plan that we don't want to share until a specific feature is fully working. We are fiercely competitive, and we don't expect anything less from our rivals. As a result, we may occasionally surprise our loyal traders and project supporters with new features that have never been seen before in the DeFi industry.
How Can I Be Certain SWAP Is Real?
SWAP Tokens were created to represent the SafeSwap Online platform. SafeSwap online, a company formed in January 2018, was developed by MUXE BV, active in cryptocurrency and blockchain-based technologies, inventions, and applications since then.
Final Words
SafeSwap online develops a user-friendly platform by providing various blockchain products, including staking, secure vaults, and their own decentralized exchange.
In the BSC DeFi space, a complete product that delivers fast and secure transactions to compete with the top DeFi platforms on the market. Safeswap online teamed up with other cryptocurrency companies to purchase trees using staking pool fees.
Safeswap Online's project will aid in the eradication of various environmental challenges around the world. The SafeSwap Protocol is a total solution in the DeFi atmosphere aiming to compete among the top DeFi platforms in the market.