Are you new to the world of cryptocurrencies? A first-time investor and crypto-enthusiast? Don't miss what's happening! Crypto bull show is featuring Safeswap online in an episode that will be aired on the 26th of January 2022. This show is a first-time starter for all those looking to invest in Safeswap online and who want to learn more about the crypto industry.
Many industry observers believe the crypto sector has matured in recent years. There are numerous outlandish forecasts for bitcoin's price in the near-to-long term. However, many cryptocurrency fans believe Safeswap online will soon surpass its all-time high. You can learn more about SafeSwap online future and safe investments in this show.
What Is The Crypto Bull Show?
This is a fresh new series in which they examine live coins. The goal is to identify promising ideas for future funding. They accomplish this by employing a set of guidelines outlined in their book of the same name, "Crypto Bull: How to Maximize Your Profit Regardless of the Market. "They do a fast rundown of the project and then assess whether or not it is a worthwhile investment. They also do a lot of live streams that are open to the public.
More Information About Safeswap online
Safeswap online has been around for a while. SafeSwap Online is a decentralized currency exchange platform that allows users to trade various currencies simultaneously. SafeSwap Online is a Smart Contract-based solution that directly works with metamask, trust wallet, and other third-party wallets.
All decentralized networks now have a significant turnover. However, using Safeswap online, you may trade, exchange and Swap to make a more substantial profit. SafeSwap's online staking platform's only motto is to make progress with each step and achieve more every day.
The majority of individuals are aware of what this platform is all about. On the other hand, Beginners need to understand Safeswap online and how they may invest in and profit from this BSC decentralized staking system.
Crypto Bull Show Special Episode
Do you want to make a cryptocurrency investment? Have you heard of interesting options that can help you multiply your investment? Cool. Even better. In today's session, Dimitri-H will be airing two episodes in which they have a special show for the second episode.
The Safeswap online team is world-class, and their technology can be one of the most significant blockchain inventions. Safeswap™ is developing a whole proof-of-concept blockchain that will make blockchain more scalable, safe, and private. This technology has various applications, including allowing users to trade their digital assets on decentralized exchanges using a noncustodial wallet.
One episode featuring Safeswap online will talk about all the ups and downs of the project and how long they have come. They will have a special episode discussing the upcoming blockchain project @safeswaponline.In this episode, they will find out what Safeswap online is all about. What they can contribute to the table is what their application is. Discuss all the safe options to invest in this upcoming blockchain project.
So don't miss today's special episode if you are looking for a safe investment with Safeswap online. The show airs at 6:00 pm on the 26th of January 2022. The second part of the episode is about Safeswap online.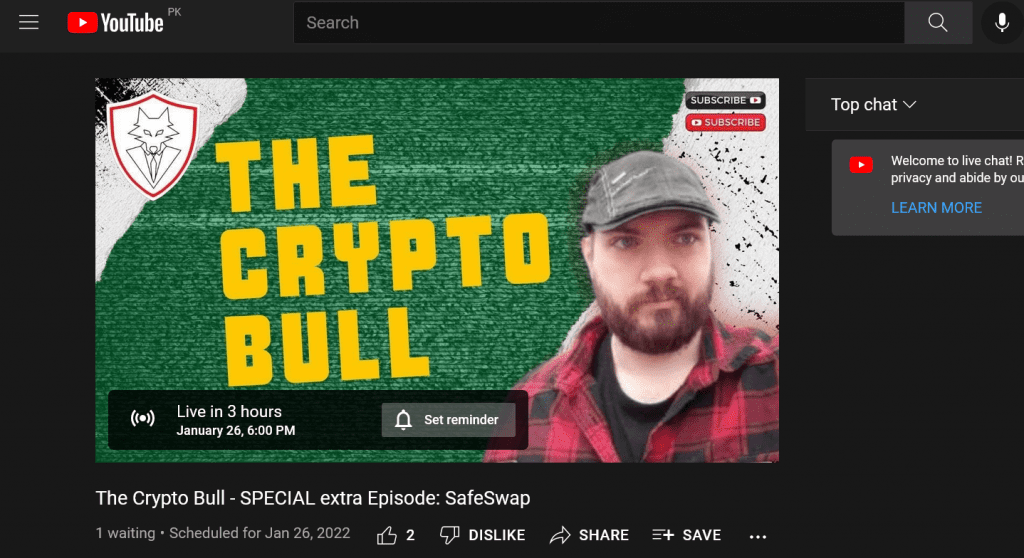 Credits to www.youtube.com/user/dudepost Gracious Interests for reviewing SafeSwap
Website safeswap Online : info.safeswap.online