Txbit Token is Txbit Exchange's native token. Txbit Exchange was started in January 2018 and has since seen a variety of market conditions, including a brutal crypto winter. Txbit has been listing several tokens for the past few years, but we are delighted to announce that the SWAP token is available for exchange on Txbit.
Some things have changed, but one thing hasn't: people in crypto appear to be impatient. As a company with a working product that began in 2018, they must focus on the long-term rather than the short-term. They are not your typical vaporware or pump-and-dump token; they are a corporation with a vision for the future and a sense of responsibility. SafeSwap Online collaborated with Txbit, and the Swap Token will now be listed on the Txbit platform. Continue reading to learn more.
About SafeSwap online
The SafeSwap Online cryptocurrency trading platform is a service that allows users to safely and efficiently swap coins. With compatible wallets such as Metamask, Trust Wallet, Wallet Connect, Safe Pal, and Binance Smart Chain Wallet, SafeSwap allows liquidity providers and traders to connect in a financial ecosystem that is open to everybody.
On SafeSwap™, digital trading currencies is a seamless experience with no unnecessary delays or interruptions. Every transaction is instantaneous and is based on decentralized smart contracts. As a result, the SafeSwap Online platform guarantees a smooth and secure trading experience. SafeSwap™ is a decentralized cryptocurrency exchange that offers a market for blockchain-based products, assets, and collectibles that can be redeemed, claimed or traded for other blockchain-based assets like cryptocurrencies.
Many DeFi ventures have been launched on the market using swapping platforms like Uniswap, Pancake Swap, Bakery Swap, and similar types of cryptocurrency trading platforms, thanks to the low entry approach first presented by Uniswap.
About Txbit.io
Txbit is a Seychelles cryptocurrency exchange. Since 2019, the platform has been operational. Txbit Global Services Limited is the firm behind Txbit. Txbit is an everyday trader's cryptocurrency exchange. It was designed and is based in the Seychelles. Security, Privacy, and Reliability are the three pillars of their ideology.
All you need to use the exchange's full capabilities is an email address. An intuitive user interface has been fine-tuned for an excellent desktop and mobile experience and built with cutting-edge technology and FinTech-grade security.
Program for Referrals
Txbit offers its users a referral scheme. It's simple to take part; all you have to do is establish an account, obtain your link, add friends, and then collect your bonus (just as any other referral program, really).
Txbit Trading Point of View
Different exchanges have different perspectives on trade. There's also no "this overview is the best" perspective. It would be best if you decided which trading perspective is ideal for you. The order book, or at least a portion of the order book, a price chart of the chosen cryptocurrency, and order history are all standard features of the views.
They usually have bought and sold boxes as well. Before deciding on an exchange, look at the trading view to see if it feels suitable to you. A screenshot of Txbit's trading display is shown below: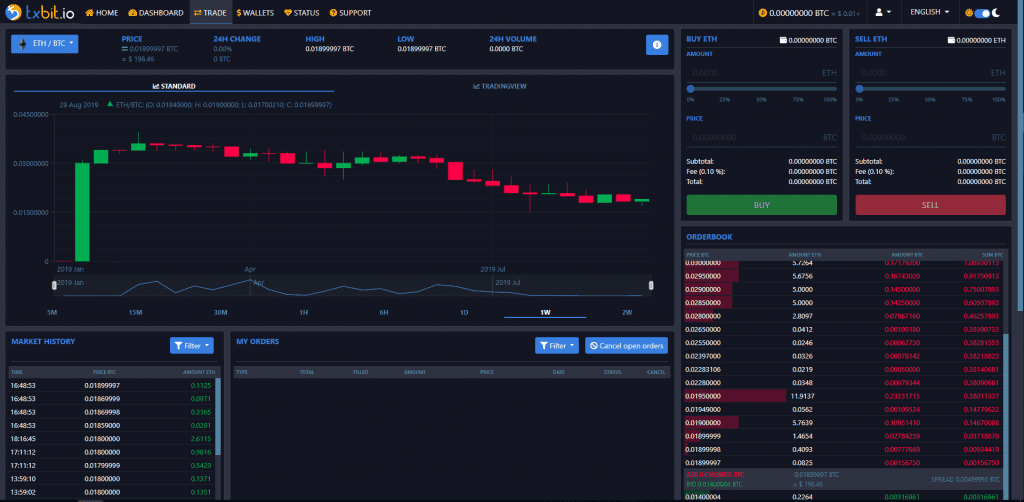 Txbit Charges
Trading Fees For Txbit
There are no separate costs for takers and manufacturers on this market. Instead, they use a "flat fee model," which we call it. This charges a 0.20 percent fixed trading fee. These trading fees are competitive enough compared to the industry average of 0.25 percent.
However, we are seeing an increasing number of exchanges move to lower trading fees, with 0.10 percent and 0.15 percent emerging as new industry averages.
Fees For Withdrawals From Txbit
The withdrawal charge is another fee to consider before deciding which exchange to trade on. It differs from one cryptocurrency to the next. In most cases, the withdrawal charge is predetermined (regardless of the amount of cryptocurrency units withdrawn). According to this report, the global industry average withdrawal charge is roughly 0.00053 BTC when starting BTC.
Why SafeSwap online choose Txbit.io?
Txbit offers the following six elements as key benefits: privacy, security, reliability, simplicity, minimal costs, and a referral program. We believe that minimal fees, simplicity, and security are the most crucial features (although security and reliability tie into each other).
What is the listing procedure for txbit.io?
It can take up to 7 business days for an asset to be listed and traded on our standard listings. This is much faster for express listings, taking only one business day.
A Txbit Exchange representative will contact you shortly after you submit the form. If your application is turned down for any reason, you will be contacted right away to arrange a complete refund of your listing cost.
Type Of Listing
Typical listing (7 days)
0.05 Quick listing (1 day)
0.075 alternatives for listing
Subscription to the top tier
Free public service announcement on social media
Email marketing for free
Homepage Listing Of Featured Coins
FIAT markets 0.005
Markets for Stablecoin 0.01
Make a wrapped ERC20 version of your asset and list it
Initial Public Offering (IPO) (IEO) 0.05
What Distinguishes Txbit Exchange From Other Exchanges?
Essentially, every centralized service provides the same service: cryptocurrency trading. We're all doing the same thing, yet Txbit Exchange has developed its personality over the years. Customers may expect a fair approach, no exorbitant listing fees, and complete openness about their assets.
Option for a wrapped ERC20 listing /Adds an extra opportunity to make a Wrapped ERC20 version of your project. Concentrating solely on crypto-to-crypto trade.No KYC is required to set a daily limit. There will be no sharing of intern KYC information with other companies. All details will be posted on the listing website before the applications open up, including the listing cost.
The Listing Fee is solely to cover the charges and expenses of integrating your token as well as future maintenance. The dialogue will be centered on user feedback and suggestions /A specially designed forum for submitting ideas, discussing them, and voting on them. All of the technology was created from the ground up with security and dependability in mind.
Implementing customer/user input takes hours/days, not weeks or months because all components are proprietary. Because of their future-proof infrastructure and exchange design, we will be able to quickly integrate Margin and Loan trading in the future, as well as other sophisticated features suggested by our users.
Smart Notifications
Get notified whenever an essential action on your account is triggered or completed
.A Beautiful And Responsive User Interface
Because our whole back-end and front-end are custom created, we focused on providing our users with a cutting-edge interface experience.
Generous Referral Program
Earn a lifetime commission of 25% on every transaction charge you refer!
Swap Service
We provide a swap service for our listed coins/tokens to smooth the transition to a new blockchain.
Support
We attempt to respond to support tickets within 24 hours because we understand how frustrating it may be to wait and not know what will happen. Txbit believes it is their job to provide their clients with the resources to educate themselves.
With safety recommendations, responsible trading standards, and various additional publications, the Txbit Academy will help you gain all of the information you need to make informed judgments and trade sensibly.
Individual memberships – they provide their customers with the option of upgrading their free account to Premium or Ultimate, both of which offer significant savings on their trading fees. There isn't even a trading cost with Ultimate! Yes, 0% trading means you can trade as much as you like without incurring any costs.