Air quality, ecological degradation, and resource depletion are all serious environmental concerns in the present era, and they are all on the rise. As a result of these problems, the world is experiencing massive ecological change. Reforestation's efficacy as a natural climate solution is widely accepted.
We're only beginning to understand the cost of living without trees from an environmental aspect. Planting more trees is the most effective approach to address these issues. SafeSwap Online has taken the initiative in several regions to do just that, giving back to nature what we owe it. Tropical regions can trap up to four times the carbon per acre as our trees.
There are currently enough climate solutions available that, if we backed them, we could avert 1,500 billion tons of CO2 emissions, reversing 30 years of carbon damage. As a result, Safeswap online is launching a Safeswap tree plan project with its partner Ecologi.SafeSwap online has already purchased several trees; this initiative marks them on the top 10 tree member leader board of Ecologi.To learn more about Safeswap's online Tree plan, continue reading the article.
About Ecologi
A group of environmentalists in Bristol, United Kingdom, founded Ecologi. Their cooperative ecology is being turned completely upside down, resulting in conflict for practically all forms of life on the planet. Many of us cannot contribute effectively to the excellent climate catastrophe; therefore, we were disappointed.
We know how to avoid it. And we all know that it isn't going to save itself. As a result, we must find a solution on our own. As a result, Ecologi is here to assist the environment by raising the levers. Ecologi is attempting to lessen our carbon footprint, but progress is modest compared to the amount of time we have left. The tools they have identified for mitigating climate change aren't enough.
About SafeSwap Online
SafeSwap online is a SafeSwap, Inc. trademark. SWAP is a cryptocurrency that debuted in 2020 and is based on the Binance Smart Chain (BEP20) technology. SafeSwap is a Smart Contract-based system that works with Metamask, Trust Wallet, and other third-party wallets directly. The current supply of SafeSwap online is 1,000,000 coins, with 0 in circulation.
SafeSwap Online is a decentralized trading platform that allows users to trade multiple cryptocurrencies. The idea is to create a dedicated trading (DeFi-based) DEX that will enable customers to rapidly connect to current liquidity pools. SafeSwap Online is a secure Smart Contract-based tool that uses web3 Dapp browsers to interface directly with Metamask, Trust Wallet, and other decentralized wallets.
Ecologi And Safeswap Online collaboration
Family members formed SafeSwap Online with a long history of working in the environmental field. They wish to make a global shift by reforesting areas that have been deforested due to overpopulation and other locations that have been subjected to a plantation drive. They want to spread awareness worldwide, and they hope to do it with the Ecologi's aid.
SafeSwap Online and Ecologi are collaborating to achieve particular goals to make the ecosystem pollution-free. SafeSwap Online teamed with Ecologi to plant over 5000 trees, with the goal of planting over 995,000 trees in the future. SafeSwap Online planned to produce over 1000 trees every month, with the rest coming from trees purchased by its sponsors. Safeswap online is on its 20,000 tree plantation drive under the Safeswap Tree plan project.
1- Reduced Greenhouse Production
Every month, SafeSwap online contributes to several carbon reduction projects. At Ecologi, they put your money into various projects that show they are reducing greenhouse gas emissions. Ecologi's financing strategy is based on the Project Drawdown structure, which our Climate Committee oversees, and SafeSwap online backs these carbon-reduction programs.
2- Forest Plantation
Planting trees is now universally acknowledged as one of the most effective ways to counteract climate change and keep temperatures rising above 1.5 degrees Celsius. They're also necessary for averting environmental disasters. Safeswap online collaborated with Ecologic, a fantastic tree-planting partner who can sustainably plant millions of trees every month on behalf of their community. Safeswap's online tree plan is initiated to increase forestation to the next level.
Safeswap Online On Ecologi Top 10 Tree Member Leader Board
Ecologi has a long history and works with a number of well-known organizations, including Eden Reforestation Projects. Ecologi has gained the trust of Safeswap online; thus, they make sure that they planted these trees. Some of the planting drives organized by SafeSwap online and its supporters Via Ecologi included Zambezia coastal mangrove restoration and Marotaola coastal mangrove restoration.
SafeSwap online always aims to buy more and more trees for as many various uses as possible, as many of our community members know. They believe that contributing to the environment will contribute to the power utilization of crypto and blockchain-based businesses.
We're thrilled to announce that they climbed to the top of Ecologi's Top 50 Member Tree Leaderboard, and they will keep buying as many trees as we need to get to the top 10. They have programs such as the SafeSwap Tree Plan and tree purchases for the environment. They will buy 2878 trees with SafeSwap Online right now to reach their goal of 20,000 trees, which will put SafeSwap Online in eighth place out of the 400,000+ people who are buying trees for the environment.
Top 10 Tree Member Leaderboard
SafeSwap Online Muxe BV is also running on the top 10 tree members of Ecologi. A total of 20,000 trees have been planted so far on this journey.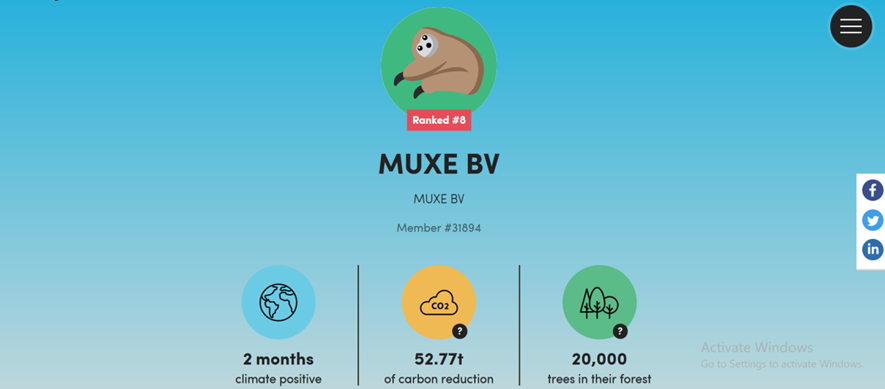 2022 Plantation Drive SafeSwap Online
SafeSwap donated 2878 trees to help make 2022 a great year. As some of you may know, they use the Ecologi platform, which has a rating system for giving trees. In appreciation of SafeSwap Online, Ecologi added another 2878 trees to their forest, bringing the total number of trees to 20,000. They had been in the top 20 for a while but chose to go up to the top 10 this year. According to Ecologi's ranking system, they are presently the eighth largest forest:
Summary
Safeswap online teamed up with ecologi to purchase trees using the Safeswap Tree plan. Safeswap Online's project will aid in the eradication of various environmental challenges around the world. It takes a long time for farmers to reap the financial benefits of tree planting and care.
Ecologi's partner believes in SafeSwap online tree-planting activities and has planted over 20,000 trees by now. As a result, people's willingness to plant and care for trees is dwindling. To make the earth a better place to live, the Safe Swap online community planted trees. Small contributions go a long way, and we are pleased to inform you that Safeswap online has fully supported Ecologi's initiative, and they are on their way to achieving their goals.
To get more information regarding the SafeSwap Tree plan clicks on the link below: