SafeSwap Online has been a staking platform since its beginning. They have worked their way and launched many staking pools along with their partners. SafeSwap Online has been expanding its platform in order to deliver the best practical service to its customers, as most people are aware. Now, SafeSwap Online has launched new staking pools in partnership with VICEWRLD!
We'll pick up where we left off in our previous post about the VICEWRLD staking pool and go into the details of the new VICEWRLD Staking pool. We're talking about staking on SafeSwap online this time.
It'll be simple to earn staking rewards once you've learnt about staking on the SafeSwap online platform. Staking, like everything else in crypto, isn't as complicated as it looks; once you get the hang of it, it'll be straightforward.
Why not earn a passive income while waiting for your project to complete? To obtain $VICE APR, stake your $VICE tokens. They've teamed up with VICEWRLD to establish the VICE token, which you can put your money into on their platform. For more information on New VICE staking on the SafeSwap platform, keep reading.
What Is ViceWrld?
VICEWRLD is an all-in-one platform solution for the adult business. VICEWRLD breaks the boundaries between fantasy and reality and is explicitly designed for thrill seekers, sexual rebels, and freedom fighters. Get lost in a perfectly realistic, high-tech metropolis to escape the monotony of everyday life. The currency that underpins it all is an 18+ digital playground created for thrill-seekers.VICEWRLD is a cyberpunk city where you'll want to return again and again. This 18+ social network offers live streaming, staking pools, kink and LGBT producers, casino games, NFTs, and everything in between. It's inventive, adaptable, and amusing.
Launch Of New VICE Staking Pools On Safeswap Online
Through their partner SafeSwap online, the second round of VICEWRLD staking pools went live on Tuesday, February 8th, 2022, at 17.00 UTC for a duration of 60 days!
There will be two pools available throughout this period:
1) stake VICE --> earn VICE + GOLD NFT
2) Stake VICE and earn SWAP.
Stakers will be able to earn the VICEWRLD VIP GOLD NFT airdrop! Complete pool and NFT information will be available soon.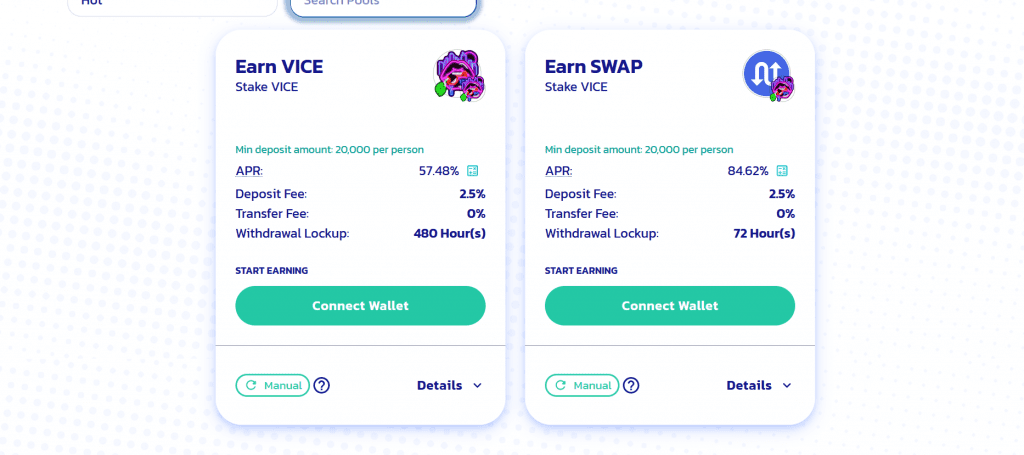 ABOUT SAFESWAP ONLINE :