People who routinely earn and consistently lose are present in the crypto market. The utilization of the most excellent crypto tools available on the market is one decisive factor that separates the winners from the losers.
There is some luck involved in meeting the right people and learning about top transacting tools. Experimenting with alternative tools that meet your needs, on the other hand, is something you can do right now, and it will almost certainly improve the way you work. It might mean the difference between finding the next hidden gem and doubling your wealth or following the crowd and buying overpriced cryptocurrencies.
We believe that currency and crypto will coexist for an extended period. And over 99.9% of the world's money supply is still currency, and we need to keep constructing bridges to make it simpler for money to flow into crypto. SafeSwap online will soon launch the payment service integration in Banxa, and Banxa is a partner that shares its goal of bringing cryptocurrencies to people worldwide.
Banxa's partnership will make it easier for their consumers to purchase cryptocurrencies with their credit and debit cards, as well as local payment methods such as bank transfers and bill payments. So let's dive right in to discover more about SafeSwap Online's new payment service in alliance with Banxa.com!
SafeSwap Online is a decentralized trading system that enables the exchange of various coins. The SafeSwap protocol is a safe, Smart Contract-based program that communicates directly with metamask, trust wallet, and several other third-party wallets.
SafeSwap, a digital trading currency, is a seamless experience with no delays in execution or needless distractions. Every deal on SafeSwap Online is instantaneous and is based on one of the blockchain-based smart contracts. As a result, the SafeSwap Online platform delivers a smooth and secure trading experience.
It is a solution that allows customers to safely and efficiently exchange their bitcoins. It also allows traders and liquidity providers to interact in a secure financial ecosystem that anybody with a compatible wallet can access. SafeSwap online is a new decentralized exchange (DEX) based on Binance's Smart Chain (BSC). Customers can use the automated market maker (AMM) to produce money from their bitcoin in various ways.
How Does SafeSwap Online Work?
SafeSwap is a decentralized cryptocurrency exchange that allows users to redeem, claim, or swap blockchain-based products, assets, and collectibles for other blockchain-based assets like cryptocurrencies.
SafeSwap Online employs the PCS2 protocol and so does not function as a middleman between buyers and sellers but instead merely mirrors the PCS2 intelligent contracts on its platform, allowing it to focus on other areas of its business model through transaction fees and commissions
Furthermore, compared to other platforms available, these costs are very modest, making it a more favorable platform than several others. Customers can instantly switch or exchange cryptocurrencies without handing over custody of their cash to a third party or custodian. By design, peer-to-peer transactions swiftly occur between users' wallets, and a procedure is known as a swap by some.
Banxa is one of the speediest transaction and regulatory network operators for the digital asset business, and it's also the only one listed on a stock exchange and open in terms of ownership and reporting.
Banxa is a transaction and legal technology (Reg-tech) startup that provides a secure and prudential payment channel for cryptocurrency enterprises to enable their end-user consumers to securely buy cryptocurrencies using the industry's broadest range of payment methods. Banxa's cross-jurisdictional licenses and registrations give digital asset service providers the peace of mind that comes with partnering with a credible leading manufacturer.
Banxa provides payments infrastructure and regulatory compliance across worldwide marketplaces, enabling the world's leading digital asset platforms. Banxa's vision and mission are to create a bridge that connects people worldwide to a more just and equitable financial system. Banxa's global offices are in Melbourne, Australia, and its European headquarters are in Amsterdam, Netherlands.
They are a global group of enthusiasts, specialists, and pioneers in technology and cryptocurrency. They have been developing industry-leading payment solutions that bridge the gap between traditional finance and digital assets since 2014. Their objective remains the same: to provide global access to digital materials.
Banxa is a crypto-community made up of both newcomers and seasoned cypherpunks.
They believe in the power of decentralized finance and are committed to ensuring that individuals in all parts of the world have equitable access to financial possibilities. They are a worldwide team with offices in Australia, the Netherlands, and Lithuania spread across ten countries. They have expanded from a staff of 25 to over 160 people worldwide in the last year. They are incredibly proud of our progress, Banxa-means, and their collaborative and connected culture. They are early adopters, progressive in their approach, and adaptive to the ever-changing landscape as an up-and-coming tech unicorn in their area.
Why SafeSwap.Online Choose for Banxa.com?
They are the best at what they do. Their team has been developing cutting-edge cryptocurrency exchange payment solutions since 2014. And they keep assisting digital asset businesses in realizing their goals. They offer the most diverse payment alternatives, both locally and internationally.
Allowing your users to convert in their currencies at lower rates encourages them to recycle more. Banxa accepts all major credit cards, bank transfers, wire transfers, and national currencies, and our global offices give local support to our partners.
They eliminate hazards from the SafeSwap Online payment process and simplify their customers to buy and trade cryptocurrency.
Conversion Rates At Their Peak
Using Banxa's payment system, you can increase your market share. They have the highest conversion rates in the industry.
Completely Compliant
Banxa.com is regulated because they are publicly listed. They will take care of compliance while you concentrate on growing your business.
Assurance Of Safety
With Banxa's zero chargeback guarantees, you can rest easy knowing your business is protected.
Expert Assistance
Customer service is available 24 hours a day, seven days a week, wherever your end-users are and whenever they need assistance.
Diverse Payment Methods
Their team has been developing cutting-edge cryptocurrency exchange payment solutions since 2014. And they will keep assisting digital asset businesses in realizing their goals. They offer the most diverse payment alternatives, both locally and internationally. Allowing users to convert in their currencies at lower rates encourages them to convert more. Banxa accepts all major credit cards, bank transfers, wire transfers, and national currencies, and our global offices give local support to our partners.
Security Measures Regarding Payment Through Banxa.com
Transparency and regulation, we believe, are the keys to realizing the full potential of digital assets. This is why we decided to put Banxa Company on the stock exchange. Their payments infrastructure ensures institutional-grade financial stability while adhering to the strictest compliance standards. Allow them to manage your risk so you can concentrate on growing your business.
KYC
In up to 180 countries, they cover Know Your Customer regulations.
AML
Through their platform, they handle all anti-money laundering standards.
Monitoring
Their annual audits verify that we are in compliance in every country where we do business.
Detection Of Fraud
They have built comprehensive fraud detection technologies to keep you and your customers safe.
Profiling Of Risk
Their staff has developed risk-profiling solid capabilities due to years of first-hand experience.
Management Of Risks
Their comprehensive risk-management plan is designed to keep your clients safe while also keeping your business running.
There Will Be No Chargebacks
Their fraud detection technology and knowledgeable staff ensure that the company never loses money due to chargebacks.
Currencies Available On Banxa.Com
Currently, Banxa offers the following cryptocurrencies:
BTC (Bitcoin)
LINK (ChainLink)
ETH (Ethereum)
LTC (Litecoin)
USDT (Tether)
BUSD (Binance USD)
USDC (USD Coin)
BNB (Binance Coin)
BCH (Bitcoin Cash)
XRP (Ripple)
CHZ (ChiliZ)
KCS (Kucoin Token)
BAT (Basic Attention Token)
MANA (Decentraland)
AAVE (Aave)
AVAX (Avalanche)
BSV (Bitcoin SV)
CELO (Celo)
COMP (Compound)
DOGE (Dogecoin)
ENJ (Enjin Coin)
DOT (Polkadot)
MATIC (Polygon)
Banxa.Com Integration Methods
Banxa.com is more significant than other crypto transaction networks; it offers a wide range of integrations from which the customer can choose.
Redirection To API
The user selects a payment method and amount on your platform's interface. Banxa receives the user's wallet via API.
Redirect Button
The user is sent to our payment flow after hitting the buy button on your site, where we manage KYC and streamline the process. You can either enter a wallet address in Banxa or use your API to get one.
Widget Version 2.0
Widget Version 2.0 is currently being worked on. They are working on a new widget, 2.0, to provide an even better user experience. To participate in their beta testing program, stay tuned.
Customers may instantly verify, pay for, and get currencies without leaving the SafeSwap Online site.
1. Enter A Dollar Amount
Their customer types in the amount they want to buy (in fiat or cryptocurrency), their email address, and their phone numbers. The customer's wallet is set to the company's wallet by default.
2. Select A Method Of Payment
Customers can pay via bank transfer, credit card, wire transfer, or digital methods such as Apple Pay.
3. Secure verification
Following that, the customer proves their identity, and they authenticate their information using our Know-Your-Customer (KYC) security protocols.
4. Complete The Transfer
Depending on the payment option, the customer will quickly receive assets into their account after being validated.
SafeSwap Online And Banxa.com Payment Integration
For a smoother expansion, seamless integration is required. Their experts will create widgets and APIs according to specifications, connecting consumers to the crypto world in minutes.
Their method is as follows:
Sandbox
They will set up a testing sandbox and answer any developers' questions.
Put It To The Test
When the integration is complete, they will test it with the SafeSwap Online team end-to-end, set up the production environment, and go live.
Support
Once live, their customer support team will handle any Banxa-related customer inquiries via live chat, available 24 hours a day, seven days a week.
How To Use Binance Platform Via Banxa Payment Integration Process
1. Login or create an account on Binance.
2. Select "Buy crypto using a credit card" or "Buy crypto" from the drop-down menu." Payment by a third party."
3. Select your fiat currency (USD, AUD, EUR, CAD, etc. ), enter the amount in fiat currency, and select Banxa as your payment method. Continue by clicking the "Continue" button.
4. You will be directed to Banxa's website, where you can review your order and select a payment option. Select "Create Order" from the drop-down menu.
5. If this is your first time purchasing from us through Binance, you will be required to complete a verification process. You will be able to provide your contact information, such as your email address and phone number, at this phase.
6. You will then be prompted to provide your personal information (name, date of birth, country of residence, and address).
7. You'll need to upload a photo of your ID document in the next step. Please take the time to read the instructions that have been provided.
8. Now, you must upload a selfie shot of yourself holding your ID (the same ID you took a photo of in the previous step). Please pay close attention to the directions provided during the process.
9. After you've submitted your documents for verification, you'll enter your payment information. The process for paying with your credit/debit card is demonstrated in the video above. Please make sure you're using a personal card (one with your name on it) or a bank account with your name on it.
10. After you've made your payment, you'll be able to see the status of your order. You can go back to Binance at any time.
11. Pay attention to your inbox. We will send you notification emails (when the payment is received, when the transfer starts, when the order is fulfilled). You will be given the ability to verify your transaction's status on the blockchain network in one of the emails (when the transfer begins). You'll also receive a link to track the status of your order. Your coins will appear in your Binance account/wallet once your order has been fulfilled, i.e., the transfer has been completed, and the transaction has been verified on the blockchain network.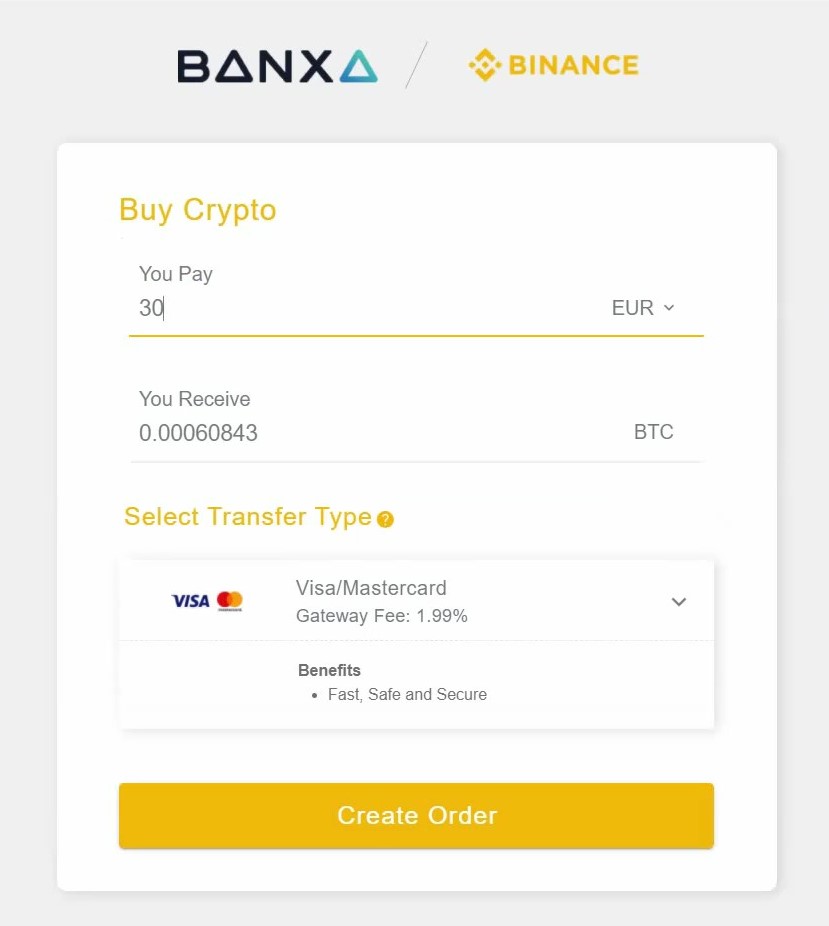 Final Words
It's been a while since cryptocurrencies and blockchain were hailed as game-changers in finance and a slew of other industries. Even after so many years since Bitcoin's inception, the space's regulation is still unclear, and compliance isn't taken for granted.
The management of private keys is one of the most difficult problems that most bitcoin users face today. Users' private keys are bits of data that allow them to own their currencies and conduct bitcoin payments. If you lose or someone steals your private keys, you effectively lose control of your coins and have no recourse.
Private keys are stored on your behalf by many cryptocurrency exchanges. This greatly simplifies the process by removing the burden of managing private keys on your own. It also allows those exchangers to make quick payments to you. SafeSwap Online collaborating with Banxa.com to integrate the payment service will be beneficial to its users and will allow users to buy the fiat currency with more secure methods rather than used before.