Whether from different areas of the world or at opposite ends of the supply chain, alliances between firms are a reality of life in today's industry. It's no secret that the economy of all kinds is confronted with significant problems such as digital transformation, globalization, and the continual push to accomplish more with less. More and more businesses are looking for partners to mitigate the effect, develop skills, and access innovation.
However, success does not have to be decided by a coin flip. So to make a successful journey, SafeSwap has been listed on ICO Holder. This partnership brings together two crypto firms with diverse expertise to create value for their customers.
We hope that you are fascinated by this collaboration between ICO Holder and SafeSwap Online but before moving on to this topic, let's discuss both platforms. Continue reading to learn more.
About SafeSwap Online:
SafeSwap Online is a decentralized trading system that enables the exchange of several cryptocurrencies. SafeSwap Online is a safe, Smart Contract-based program that communicates directly with Metamask, Trust Wallet, and other decentralized wallets using web3 Dapp browsers. The concept is a dedicated trading (DeFi-based) DEX that instantly lets users connect with current liquidity pools.
About ICO Holder:
ICOHOLDER is a smart tracker and global analytics platform with the most significant cryptocurrency database, providing institutional and individual investors with real-time, high-quality, accurate market and pricing data on 2,600+ currencies, 22k ICOs, 6235 events, and more.
As a market data supplier, they give a complete, all-encompassing perspective and crypto trends. They create cryptocurrency trading data or order book data, generate blockchain and historical data, social data, reports, audits, crypto reviews, and a cryptocurrency indices suite.
Aim Of This Collaboration:
The aim is to increase transparency in the cryptocurrency business. The cryptocurrency industry's equivalent initial public offering (IPO) is an initial coin offering (ICO). An ICO is launched by a firm aiming to generate cash to establish a new currency, app, or service.
SafeSwap Online participated in offering an exchange for a new cryptocurrency token issued by the firm. This SafeSwap token may have used the firm's product or service, or it may simply represent a stake in the company or project.
ICO holder And SafeSwap Partnership:
After SafeSwap Online got listed on ICO holders, all the latest news is posted on their website. For our users, it has made communication and interaction more straightforward. Monitoring of the SafeSwap online token and analytics are posted on the ICO holder. This partnership has been beneficial for SafeSwap Online and has helped increased user interaction.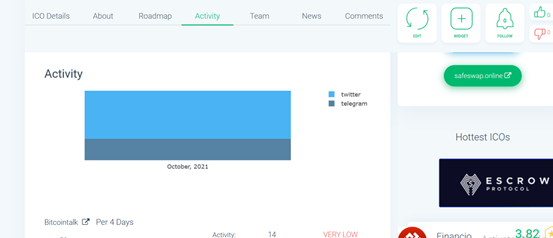 The activity of SafeSwap online on digital media platforms such as Telegram, Twitter, and User interaction.