Are you planning to analyze your crypto coin? Your Crypto Library gives access to information regarding Bitcoin and others, including SafeSwap online now. Your crypto library recently featured SafeSwap Online. Cryptography isn't the same as access control. It's a tool that can meet security goals in particular situations. This library does not provide a complete security solution but just a crypto review.
SafeSwap Online is delighted to announce that it became a part of CryptoBieb. Now you can get the latest updates and news regarding SafeSwap online on their official website. To learn more about Your Crypto Library and CryptoBieb, continue reading.
CrytoBieb
For beginners and advanced At CryptoBieb, integrity is of paramount importance. They will do everything to share the information with you, understandable, accessible, fair, and transparent. With CryptoBieb, they hope to contribute to your knowledge and insight in the field of blockchain and cryptocurrency. The goal of CryptoBieb is to make a visible social contribution in the field of cryptocurrency and blockchain.
Your Crypto Library
Beginners and experts alike may learn about bitcoin at Your Crypto Library. In this exciting era of digital currencies, their mission is to have a significant societal influence. Integrity is the most important thing to them. They will do everything possible to make content available, comprehensible, and transparent to their audience. People at Your Crypto Library are honored to be a part of your success by sharing their ideas and developing perspectives into the blockchain and cryptocurrency fields.
Learn more about various cryptocurrencies and projects, the different accessible exchanges, credibility, encryption, and token offerings, as well as Bitcoin, how to start investing, and how to store your Bitcoin and Ethereum securely.
SafeSwap Online
SafeSwap Online (SWAP) is a decentralized trading platform based on the Binance Smart Chain (BSC) that allows users to safely and quickly trade coins. SafeSwap online is also available on the Polygon network, and in 2022, it will expand to include more networks.
Popular decentralized exchanges such as UniSwap and PancakeSwap have similarities. Individuals and SWAP liquidity providers can participate in a range of interest-based earn programs made possible by the initiative. As a result, a financial framework emerges that is open to anybody with a web 3.0 wallet.
SafeSwap Online And Your Crypto Library
Your Crypto Library featured SafeSwap online and other new tokens on their website. It interprets the data for SafeSwap online in the form to make a user-friendly interface for people. After being featured on Your Crypto Library, SafeSwap online is seen to grow, and the rates of tokens have increased considerably.
Your Crypto Library provides information about SafeSwap Online ranging from general to more specific information regarding their partnerships, token swaps, road map, vaults, team, and much more. It has given SafeSwap online the right platform to put forward their journey so that more people can see what the future and current working of SafeSwap Online is.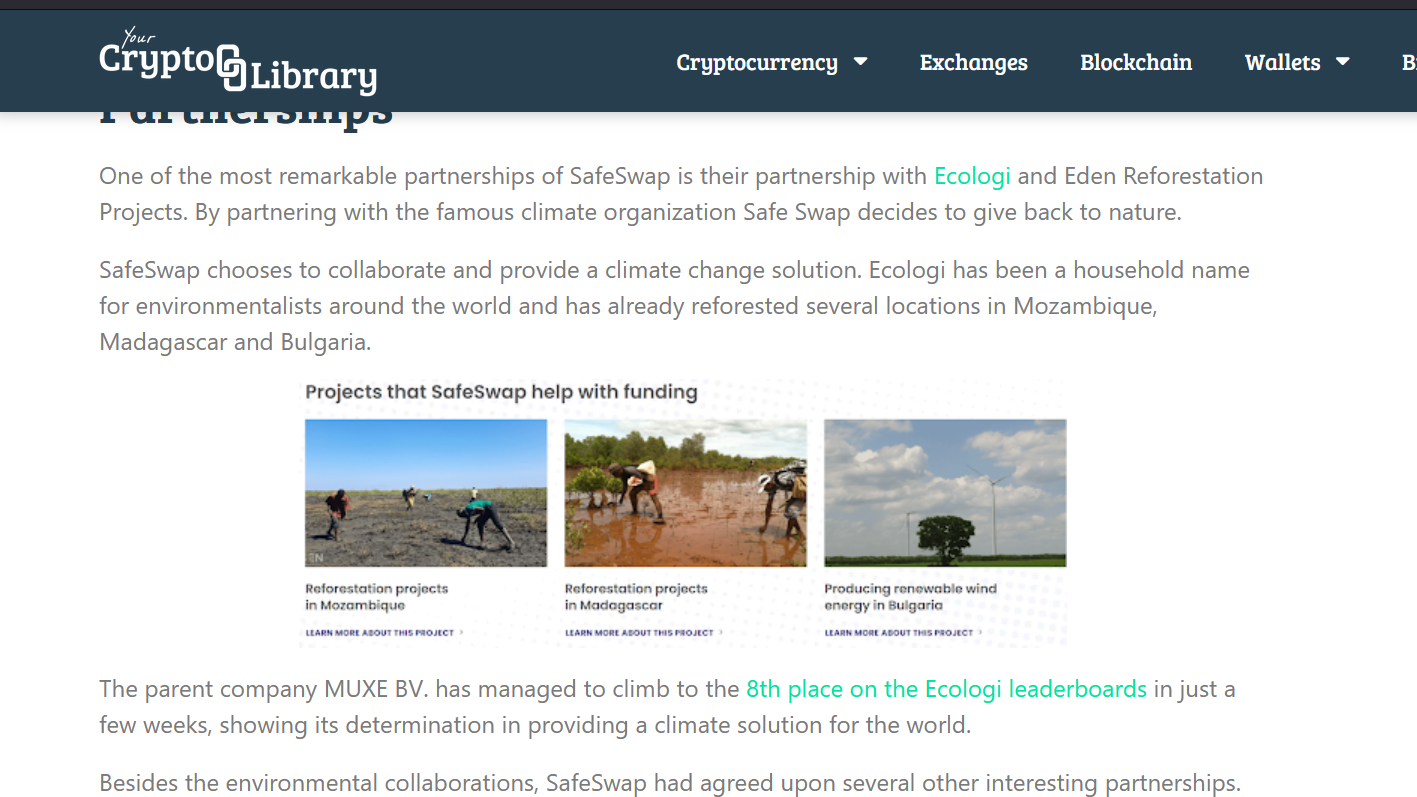 Safeswap Online And Crytobieb
SafeSwap online was featured on CrytoBieb, and now you can get more information regarding Safeswap online on this platform.According to Crytobieb, SafeSwap online creates a user-friendly platform by offering various blockchain products such as staking, safe vaults, and decentralized exchange. A complete product offering fast and secure transactions in the BSC DeFi space, aiming to compete with the top DeFi platforms in the market. More information about Safeswap online will be featured in the coming months on CrytoBieb.