At present, the economy is brimming with new and emerging consumer patterns. These have emerged due to a convergence of technical, economic, and social variables that are disrupting traditional commercial trading patterns.
In business, collaboration is critical. We hope you're intrigued by Coin Market League and SafeSwap Online's cooperation, but before we get into that, let's look at both sites. The most exciting fact about this collaboration is that SafeSwap online has celebrated it with a giveaway. To learn more about this listing and give away, keep reading.
SafeSwap Online Listed On Coin market League
This initiative and the recent collaboration of SafeSwap Online with the Coin market League have been beneficial. Now you can get the latest updates regarding SafeSwap online on Coin market League. This enables the users to utilize less time tracking information on different webs, and instead, it is all available on a single platform, Coin market League.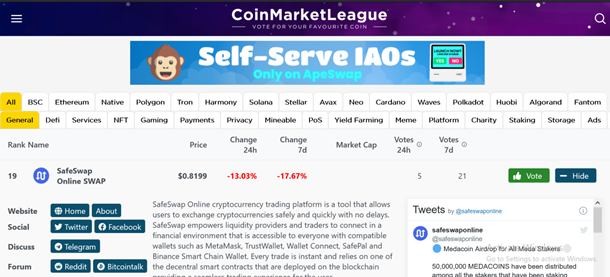 SafeSwap Online Give Away:
In honor of this listing of SafeSwap online on Coin market league, SafeSwap online The 5 x 10 $SWAP Coins Giveaway is sponsored by SafeSwap online on Coin market league platform.
There are some rules to enter in this giveaway; they are explained below:
Voting will be open from the 19th of November to the 20th of November. So to enter this giveaway, all you have to do is follow all these instructions and earn The 5 x 10 $SWAP Coins.