What steps would you take to lessen the risk of prospective hacker attacks? Although smart contracts are extremely secure, why do they require auditing services? Auditing is the only way to decrease project risks because if compromises are made both platform users and a company's brand could be jeopardized.
Have you ever thought about why auditing is so important? Yes, smart contracts are a brilliant twenty-first-century idea; but some technological defects in smart contracts might pose a huge threat to the entire system.
Smart contracts are, without a doubt, the most exciting and important component of the blockchain ecosystem. They do. However, risk attracting the attention of well-known hackers who are constantly on the lookout for new ways to disrupt them. Safeswap online is reviewed by audit. SC.
Audit.SC is available to assist in reducing the risks posed by possible hackers. This post will discuss Audit Smart Contract and its services to its customers to secure their sensitive information from hackers. Let's get this discussion started!
A Brief Description Of Audit.SC
Audit.SC is a fast-growing Smart Contract Auditing Service for Binance, Ethereum, Polygon, Solana, and various other exchanges.Audit.SC has established itself in the industry and is acknowledged by its competitors.
This firm has made a name for itself in smart auditing contracts and is extremely dependable in ensuring security and transparency. Their cutting-edge auditing methods, together with a thorough examination by our technical experts, ensure that your blockchain application is safe and completely functional.
Audit-Core Sc's Values
Your Smart Contracts are scanned and reviewed by them. Contracts are investigated, stress-tested, and diagnosed. They provide you with a one-time smart contract audit. Together, they evaluate the smart contracts and offer a high-quality online audit report.
What Is A Smart Contract Audit, And How Do They Perform One?
A smart contract audit is a comprehensive examination and study of a smart contract's code interacting with a cryptocurrency or blockchain. This method is used to uncover flaws, bugs, and security vulnerabilities in code to suggest improvements and fixes.
Smart contracts frequently deal with large sums of money, and even a minor flaw or vulnerability can result in substantial losses. The decentralized application's users and stakeholders, in particular, may lose all of their Assets.
Audit Smart Contract Services
Smart contract services are frequently audited using two approaches: manually or automatically. Manual auditing entails a team of experts/auditors going over each line of code, searching for compilation, and re-entry errors. This can also help detect other security issues that are frequently neglected.
Manual code analysis approaches include checking a predefined list of vulnerabilities or performing a free exploratory examination depending on the developer's experience. This method is accurate and thorough since it detects hidden faults in the code, such as contract logic or design issues, rather than merely bugs.
Audit.SC is the only auditing firm that provides manual and automated auditing services to ensure no technical faults exist. The smart contract is first automatically audited with a computerized scanner and then manually audited by trained and experienced smart contract professionals.
Competent Auditing Systems:
The rapidly growing enterprise DeFi market has grown, and a new generation of teams has chosen to enter the DeFi and dApps space. Auditing, verification, and assurance are crucial, and they have never been more so than in 2021.
Audit. Many auditing services do not always rely on automatic and manual smart contract evaluations, which we viewed as a significant gap in the market. SC ensures its dependability by examining both automatic and manual parts of auditing, and it is the finest tool for smart contract auditing.
Analytical review Services:
They will give you one free audit re-assessment after fixing the identified issues. They can provide more evaluations at a discounted rate if more evaluations are required.
Doxxed Team Verification:
They also provide doxxed team verification as part of our smart contract auditing services.
Verification of Know-Your-Customer (KYC):
The Most Trustworthy Team. Safeswap online used the KYC Verification service to check that their team has been certified by audit SC. Safeswap online has been approved by the audit. SC.
Audit and Validation of Smart Contracts
The fast-expanding enterprise DeFi business has blossomed, and a new wave of teams has decided to enter the DeFi and dApps sector. The importance of auditing, verification, and assurance is critical, and it has never been more so than in 2021.
They noticed a large gap in the market because many auditing services currently on the market do not always rely on both automatic and manual smart contract evaluations. Every smart contract that has been audited has been manually checked by one of their highly experienced smart contract specialists and has gone through both automated Smart Contract Scanner Softwares and automated Smart Contract Scanner Softwares.
What Is Safeswap Online?
SafeSwap Online is a decentralized currency exchange platform that lets users trade various currencies simultaneously. SafeSwap Online is a Smart Contract-based solution that directly integrates with metamask, trust wallet, and other third-party wallets. Users can stake tokens or currencies in exchange for other tokens or coins on SafeSwap's staking platform.
Safe Swap Online uses this as a service to its users and as a long-term source of passive income to stake cryptocurrencies on its platform. There are a total of one million SWAP Tokens available. It has an APY-based staking mechanism at launch, and the Supply may increase slightly over time.
What Is The Mechanism Behind SafeSwap Online?
SafeSwap is a decentralized cryptocurrency exchange. Safeswap online enables users to exchange blockchain-based products, assets, and collectibles for other blockchain-based assets such as cryptocurrencies.
SafeSwap Online uses the PCS2 protocol and does not mediate between buyers and sellers. Instead, it simply mirrors the PCS2 intelligent contracts on its platform, concentrating on other aspects of its revenue model through transaction fees and commissions.
Peer-to-peer transactions are designed to happen quickly between users' wallets, known as swapping. Furthermore, these charges are quite low compared to other platforms, making it a more appealing than several others. Customers can switch or exchange cryptocurrencies instantaneously without entrusting their funds to a third party or custodian.
SafeSwap Online And Audit. SC
SC and get their smart contracts reviewed by them. AUDIT SC are industry leaders in blockchain security, smart contract analysis, and the application of cutting-edge AI technology. They ensure that they assess every function within a smart contract to secure, monitor, and improve blockchain protocol standards. AUDIT SC uses advanced solutions and provides a critical auditing service to provide a complete solution and an accurate result. Hence SafeSwap online is delighted to be a part of the audit.
Audit And Validation Of Smart Contracts
The fast-expanding enterprise DeFi business has blossomed, and a new wave of teams has decided to enter the DeFi and dApps sector. The importance of auditing, verification, and assurance is critical, and it has never been more so than in 2021.
We noticed a large gap in the market because many auditing services currently on the market do not always rely on both automatic and manual smart contract evaluations. Every smart contract that has been audited can be manually checked by one of our highly experienced smart contract specialists and has gone through both automated Smart Contract Scanner Softwares and automated Smart Contract Scanner Softwares.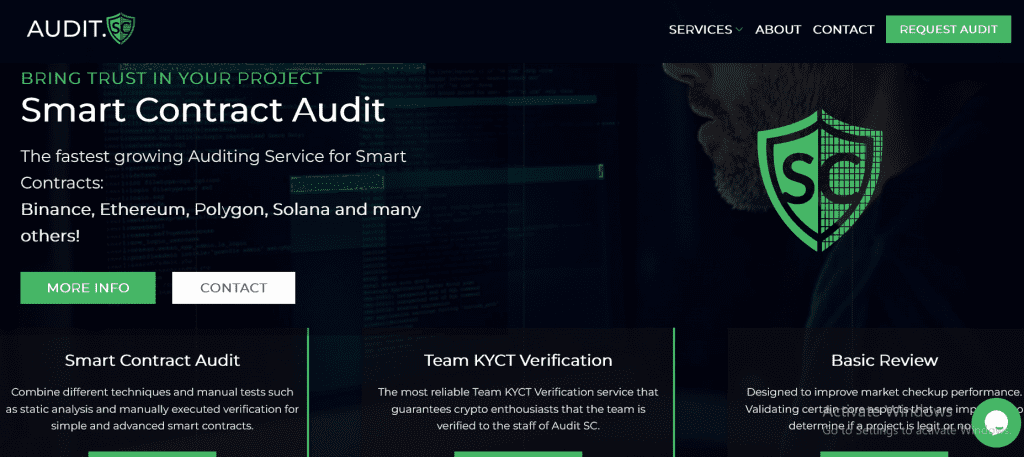 Pools For Staking
Staking, like everything else in crypto, isn't as complicated as it appears; once you figure it out, it'll be simple. As most people know, SafeSwap online has been working on its platform to provide the best possible service to its users, and it has now completed the building of a staking platform.
What exactly is a staking pool, and how does it function? Many stakeholders can pool their computational resources in a staking pool to increase their chances of being rewarded. Put another way, and they pool their staking power to validate and check fresh blocks, boosting their chances of receiving block rewards. On its site, SafeSwap Online has created a few staking pools.
Why Is KYC Confirmation Important To Investors?
There is a growing demand for expert kyct confirmation service desks that validate the person and project ownership with many scammers, rug pullers, and quick cash scams. The DeFi sector, in particular, can be a disaster at times, with fake enterprises reaping big profits and legitimate project owners failing to garner trust from their supporters.
If they encounter a case where the KYCT'ed applicants engage in malicious behavior, they will assist and exchange information with legal organizations, governments, fraud helpline departments, and victims.
Teams willing to go fully public, including every core team member, will be awarded a full compliance kyct certification badge. In contrast, other projects will be awarded a standard kyct certification badge.
On the Audit. Sc website, projects that have been kyct confirmed are listed and tracked. Their specialists and team members will monitor the initiatives with a kyct confirmation. Any questionable activity that is observed will be investigated, and if we believe there is a need to intervene, we will.
Why Safeswap Online Choose Audit. SC?
AUDIT-SC is a blockchain security leader, employing cutting-edge AI technology and performing smart contract analysis. Because of its dependability, audit.SC can compete with others in the market.
Audit. To protect, monitor, and improve blockchain protocol standards, audit.SC examines every function within a smart contract. SC employs cutting-edge technology and offers a vital auditing service to deliver a comprehensive solution and a successful end.
Safety Is Their Main Goal
Audit.SC is unique among auditing services in that its primary purpose is to protect the security of smart contract audits. It follows a set of procedures to ensure safety.
Safety checks:
Each audit undergoes a set of security tests.
Penetration Testing:
Every smart contract will be deployed and investigated on the Test net.
Validation:
Tools and knowledge will check each Smart Contract Audit automatically and manually.
Auditing Fees
BTC, ETH, BNB, BUSD, USDT, and other cryptocurrencies as payment methods are accepted. Their audits are thorough and cost-effective. The cost of the audit is determined by the audit's urgency as well as the intricacy of your contract.You'll need to figure out how much your project will cost in total, including infrastructure, equipment, employees, and other administrative costs.
Posting
The audit is usually made public on our platforms to ensure clarity and confidence, such as the interface website or GitHub.You are free to distribute the audit results wherever you choose but bear in mind that once the audit is published, no more modifications can be made.
Why Is Audit-Sc A Requirement For Project Review?
At this time, the cryptocurrency and blockchain markets are growing faster than they have ever been. With the introduction of numerous regulations, minimum standards, and default requirements, scammers have flooded the market with misinformation, false statements, and quick money drain schemes.
Most of these projects appear to have good overall ratings, frequently not corrected after a guaranteed exit scam has been completed.AUDIT-SC aspires to improve its project rating service and regularly maintains a close eye on graded projects.
When they discover that there are still unanswered questions or concerns, or when a project has backtracked on its commitments, they will always update their profile ratings to reflect the information that they feel is correct. They strive to deliver accurate information to their followers at all times, but they cannot be held liable for the behavior of the projects they have reviewed.
Summary
Smart contract auditing services are in high demand for a reason. A vital stage for every DeFi product developer is to identify contract vulnerabilities and faults. Smart-contract audits may benefit developers, ICO business owners, DeFi development firms, and owners of decentralized apps. As a result, you avoid losing money for yourself and your users.
SC is a brand-new auditing solution on the market. Their team has auditing experience with smart contracts and audits. So, if you need help with smart contracts, don't hesitate to contact them to discuss your idea.
Check the SWAP Token audit from Audit.sc via https://audit.sc/wp-content/uploads/2021/11/SafeSwap_Audit_Passed-.pdf
Check the SAFEVault audit from Audit.sc via https://audit.sc/wp-content/uploads/2021/11/SafeVault_Audit_Passed-.pdf