If you've been too preoccupied with catching up, you're probably unaware of cryptocurrencies and how it's overtaking the globe. People are flocking to the Internet because of the digital dollar. In reality, the Cryptocurrency market has grown apart from the Internet and is now influencing the real world. An increasing number of offline businesses currently accept cryptocurrency.
In this spirit, we believe everyone must understand how to handle Crypto and why they should be interested in it. As a result, The Finest Android Software for mining, tracking, and storing digital money has been released by SafeSwap online. If you don't already have one of these applications, get one now and be ready for the future of money!
About SafeSwap Online
SafeSwap is a decentralized trading system that enables the exchange of different types of cryptocurrency. SafeSwap is a Smart Contract-based programme that interfaces directly with meta mask, trust wallet, and various other third-party wallets.
On SafeSwap, digital trading currencies is a seamless experience with no delays in execution or needless distractions. Every deal on SafeSwap Online is instantaneous and is based on one of the blockchain-based smart contracts. As a result, the SafeSwap Online platform delivers a smooth and secure trading experience.
SafeSwap TM On Android Play Store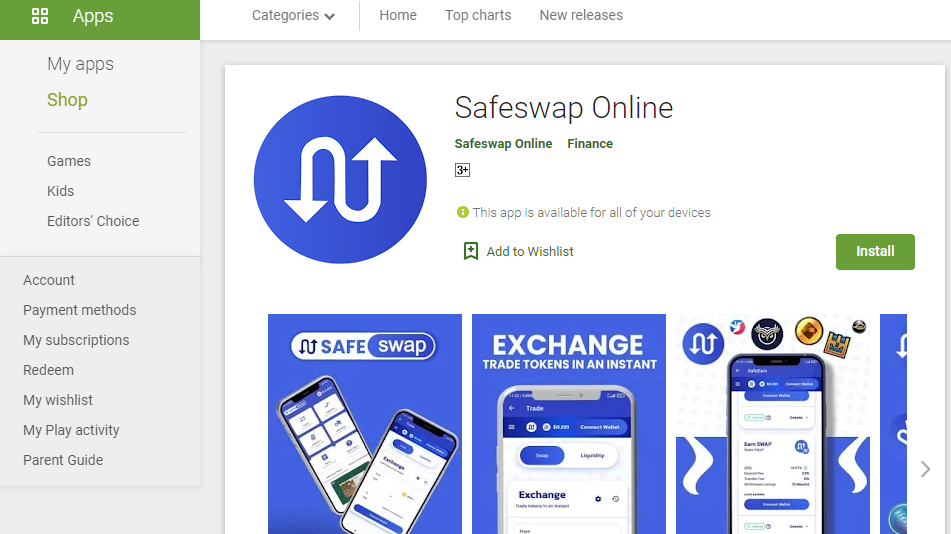 Have you purchased SafeSwap Online Token? Do you wish to stake your coins or trade them? Do you want to keep track of exchange rates or compare and switch cryptocurrencies?
Start taking advantage of the most unique and accurate SafeSwap TM rate tracking, crypto news, and real-time price notifications and reminders. "The SafeSwap Online" is the finest app for keeping up with all of the latest SafeSwap news, liquidity pools, among other things.
Download this application through the google play store on your android and start staking your tokens!