Lately, there has been some confusion regarding the official website of Safeswap Online, as many other websites with similar names have been coming forward. If you, too, were confused by seeing so many Safeswaps when you searched it up, don't worry. We are here to guide you.
In today's article, we will discuss why there's a need to spread awareness about this topic and how to find Safeswap Online.
Safeswap Online
Before we tell you about the brand names similar to Safeswap Online, we must tell you about the authentic Safeswap Online, so here we go.
Safeswap Online is safely leading its way to become one of the market's largest and safest DeFi platforms. It allows you to trade all kinds of cryptocurrencies online with the most trustworthy platform.
A smart, safe, and secure application that interacts directly with many decentralized wallets like trust wallet, Metamask, etc.. With the help of Web 3 dapp browsers, Safeswap is fast and efficient. Safeswap also supports atomic swaps, so you can easily swap tokens across different blockchains.
Safeswap's Official Website
You can find more details about all the pools and swaps through the official website of Safeswap. Here's the link to their website.
Website: info.safeswap.online/
What's All This Fuss About?
While some of you might think of it as a bit of overreaction or an unnecessary act, we find it extremely crucial to prevent our audience and following from misleading information. We are not trying to make a fuss over a small point; yes, we do understand that approximately similar names are very widespread and normal.
But what if a loyal customer of SafeSwap Online gets mis-led by a similar website and ends up losing their valuable assets? Who will be responsible for it? That's why there was a need to clear up these misconceptions so that no such unfortunate event takes place.
Some Similar Names You See In The Market
So now we will discuss some common names that are being confused with Safewswap online. We have no harsh feelings towards these brands as everyone has the right to name their brand the way they want to. But yes, of course, the correspondence in the names makes it difficult for the audience of Safeswap Online to find what they are looking for.
No doubt all of these companies/platforms are doing good and are competitive in their own way. The only reason for us mentioning them here is to make our audience clear that we, Safeswap Online, are not related to them in any way. So without wasting any further time, let's get straight into it.
This is a simple and decentralized cryptocurrency exchange platform where you can swap your tokens. However, this platform doesn't have any association or connection with SafeSwap Online whatsoever.
2. Safehaven.io
Safe Haven is yet another project that claims to transfer and exchange your digital assets safely online. These include passwords, NFTs, documents, pictures, and some others. We have to admit that they do have some good services; just the fact that some users misleadingly think of them and us as partners or even the same platform is disturbing. The services they provide include
Masternode solutions
Wallets
Pooling services
Decentralized inheritance
YFDAI Safeswap Project
Another thing that we want to bring to our community's notice is that the YFDAI Safeswap Project is outdated and isn't maintained anymore. This project allowed users to trade native ERC20 tokens in a safe and secure method when still in function.
The project is no longer functional, but still, some users get curious about this project and confuse it with some other projects. So we want to make it clear to our audience that the YFDAI Safeswap project is now officially closed.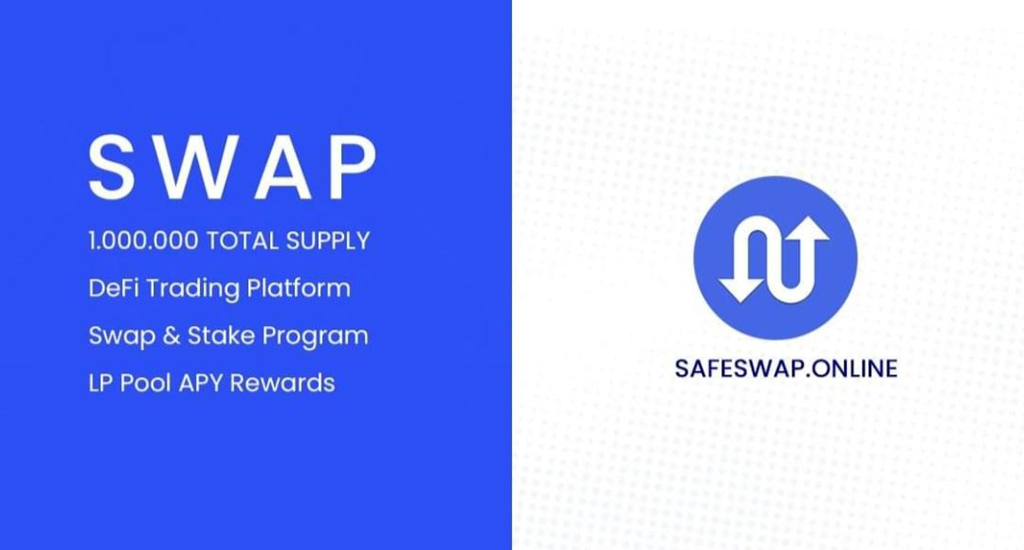 Final Thoughts
Finally, let us sum up today's discussion with the fact that we are not calling the other websites fake or fraudulent or duplicates. Whether these websites/ platforms are worth your time and trust or not, it's up to you. You decide!
But the fact that Safeswap Online is the only official website or page of Safeswap Online remains unchanged. Safeswap has been in the market for quite some time and is trusted by many users. So, who will you choose?
Let's Connect You To The Genuine Safeswap
Follow these links to join the official Safeswap community and stay updated about the latest products and launches.
Telegram – t.me/safeswap_online
Twitter – mobile.twitter.com/safeswaponline
Facebook – m.facebook.com/safeswaponline
Website – info.safeswap.online/
Reddit – www.reddit.com/r/safeswaponline/
Youtube – www.youtube.com/channel/UCm594jehnIUlIm-WUK4XoXg
Instagram – www.instagram.com/safeswaponline/?hl=en