The creation of a partnership business has emerged because of the weaknesses of sole ownership. Creating a partnership business has solved the two major disadvantages of sole ownership: limited money and limited management competence.
Coincost.Net and SafeSwap online entered into a collaboration. Continue reading the article to find more about Coincost and SafeSwap online.
About Coincost:
Coincost.net is an easy-to-use cryptocurrency monitoring web app. It is a perfect place to determine new and trending cryptocurrencies. Coincost.net provides real-time bitcoin and altcoin values. In terms of market capitalization and trade volumes for bitcoin, ethereum, and other cryptocurrencies. It shows the top cryptocurrency exchanges, charts, rates, and projections.
Coin cost's tech stack includes Cloud Flare, Font Awesome, Google Tag Manager, Modernizer, Moment.js, jQuery, jQuery Mobile, jQuery UI, particles.js, reCAPTCHA, and others. The Russian Federation is Coin cost's most important market, with 174.4k (25.8 percent) visitors.
About SafeSwap TM:
SafeSwap online is a cryptocurrency that debuted in 2020 and is based on the Binance Smart Chain (BEP20) technology. The current supply of SafeSwap online is 1,000,000, with 0 in circulation.
SafeSwap TM is a decentralized trading system that enables the exchange of various types of coins. The SafeSwap protocol is a safe, Smart Contract-based programme that communicates directly with metamask, trust wallet, and several other third-party wallets.
Safeswap Online Listed On Coincost: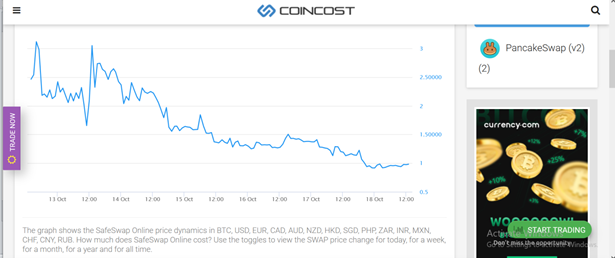 After SafeSwap online got featured on Coincost, they displayed their price market cap, news. SafeSwap Online is now priced at USD 0.98.SWAP's 24-hour trading volume on exchange marketplaces is USD 40,921.00. Now the users have easy access to monitor SafeSwap online cryptocurrency exchanges, charts, rates, and projections.
In the previous 24 hours, the price of the cryptocurrency has dropped by 18.2 percent.