For those who want to become a profitable crypto trader or investor must have a good knowledge of the market and rely on precise and dependable data before investing. At times it might be challenging to keep up with the latest developments in the digital assets industry, or to discover the most reliable and efficient crypto exchange, or track different specialized datasets that can benefit your next move, but how is this all possible?

It is critical to acquire platforms that give immediate, near-real-time, and accurate information on circulating supply, pricing action, overall supply, and much more. Still, Coin Gecko has solved this problem for Safeswap online. The best crypto coin data website and tool to help you master Safeswap online cryptocurrency is Coin Gecko.

If you desire to find the perfect platform for data analytics, Coin Gecko is where you need to be, so let's learn more about Coin Gecko and how it helps Safeswap analyze data.
What is Coin Gecko?
Coin Gecko is a data portal that offers digital currency values and basic research of the cryptocurrency industry.CoinGecko provides an essential and comprehensive study of the whole cryptocurrency market. They help analyze market data necessitates connecting with many exchanges, computing average prices, and normalizing data, and all of this must be completed without mistake.

This tool monitors the price, volume, market capitalization, and trends of all actively traded crypto, as well as those that are dormant.CoinGecko also keeps track of community growth, important events, open-source code development, and data stored on the blockchain.
SafeSwap Online On Coin Gecko: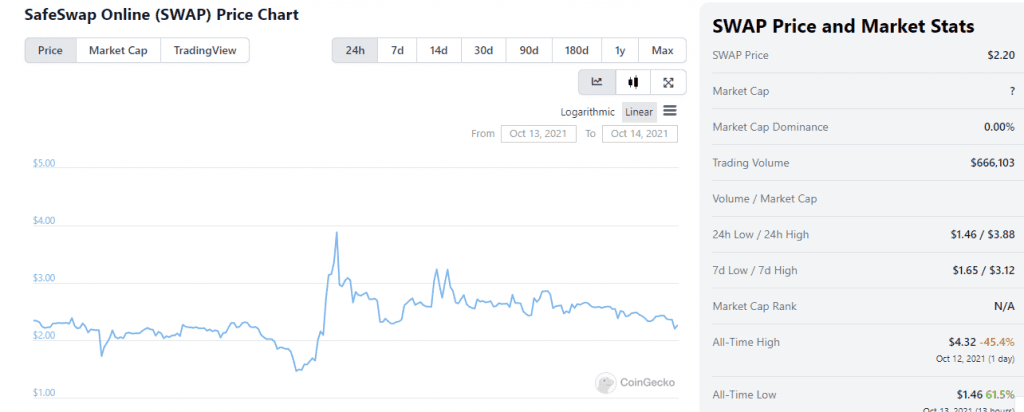 Coin Gecko has a lot of information about Safeswap online crypto assets. All data they receive/query from Safeswap online is run via Coin Gecko's numerous algorithms, ensuring the data's integrity. After being ranked on Coin Gecko, an increase in the swap token rates was seen.

The current price of SafeSwap Online is $2.36, with a 24-hour trading volume of $669,716. SWAP's price has fallen by -2.3 percent in the previous 24 hours. It has a total quantity of 1 million SWAP coins and a circulating supply of 0 SWAP coins.

With the popularity of trading SafeSwap online tokens, what are token swaps, and how do they aid crypto investors? The token Swap is to instantly exchange one cryptocurrency for another without first completing a crypto-to-fiat transaction.
Source : binancechain.news