Regardless of the global economy's rise and the scattered workforce, companies must guarantee that teams can collaborate smoothly from anywhere and at any time, But how is that possible? Improving staff productivity requires facilitating cooperation.
Collaborating with related partners can help in doing so. To improve the customer experience by linking them with the appropriate team member to minimize the time and resources necessary for customer care, allowing fewer staff to service more customers without sacrificing quality.
Choosing the right collaboration platform is critical for increasing workplace cost-efficiency and productivity. However, with so many technologies on the market, it can be challenging to select the best option for your company. SafeSwap online collaborated with Nomics to put their interest to value. SafeSwap TM is now listed on Nomics!
Before discussing their collaboration, let's see what Nomics is. Continue reading to learn more.
What Is Nomics?
Nomics.com is a cryptocurrency market cap, and pricing data source.Nomics.com is based in Boston and Minneapolis, an API-first market cap and price data firm that provides services to institutional crypto investors and exchanges.
Nomics.com makes use of the same API that their clients do. They do not use any special or secret endpoints, nor do they have backdoor access to additional functionality. Their Cryptocurrency Market Data API has the following features:
Orders and trades on the most popular cryptocurrency exchanges
API documentation and code samples in Python, JavaScript, and Ruby are of the highest quality.
Data on price, crypto market value, supply, and all-time highs
Quick response times for customer service
Raw trade data with no gaps
SafeSwap Online Is Listed On Nomics: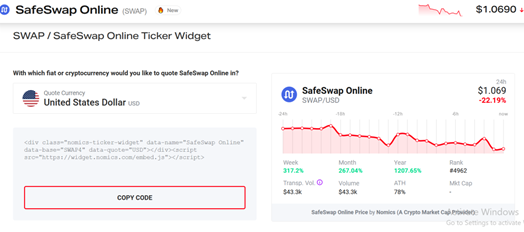 On Nomics.com, use this mobile responsive widget to display live SafeSwap Online ticker prices and historical SWAP line chart data.
This SafeSwap Online widget shows:
Price fluctuations in the recent week, month, and year
SafeSwap Online volume and transparent volume are ranked in terms of market capitalization.
SafeSwap Online has an all-time high SWAP market cap.
By default, this widget displays current charts and prices based on SWAP to USD conversion rates.
The following are the installation instructions:
Step 1: Select a quotation currency from the list below.
Step 2: Copy the embed code by clicking the "copy code" button.
Step 3: Insert this mobile responsive widget into the HTML of whichever website you want it to display.
That's just how it is.