You've been following the crypto world for a while now, but it's time to move on. Who needs ups and downs, muddled terminology, and fresh innovations?!It's time for the digits, the money-chasing; the straight-to-the-point approach to boosting your revenue with cryptos fabled power. SafeSwap online is bring collaborations and day to day inventions for all crypto investors.
You might be familiar with Medabots? Medabots is an old Japanese game/video animation. We're happy to report that Medabots is back on track, where it left off a few years ago.
Medabots is a well-known global property based on an anime series from the early 2000s that has millions of admirers throughout the world and a significant Japanese market. Medabots is the World's Largest Crypto Game! Recently SafeSwap Online collaborated with Medabots bought trees with their staking fees and provided Medabots with a staking platform but this just doesn't end here We have some exciting news for our users SafeSwap online and Medabots collaboration is going to be taken to the next level with launch of a whale pool and much more.
Sounds exciting? Continue reading to learn more.
About SafeSwap Online
SafeSwap™ is a SafeSwap, Inc. trademark. SWAP is a cryptocurrency that debuted in 2020 and is based on the Binance Smart Chain (BEP20) technology. The current supply of SafeSwap online is 1,000,000 coins, with 0 in circulation.
SafeSwap Online is a decentralized trading platform that lets users trade a wide range of currencies. SafeSwap™ is a Smart Contract-based technology that works with metamask, trust wallet, and other third-party wallets directly.
Introduction To Medabots
Medabots, or its original Japanese name MEDAROT, is a computer game series developed and sold by Imagineer. The game features a collection and battles of robots. Medal robots, or MEDAROT, is the term given to the robots because they move using medals.
What Is Medacoin and How Does It Work?
With the debut of Medacoin, a well-known IP has entered the cryptocurrency realm."MEDA" is a revolutionary new cryptocurrency (BSC token) that allows gamers to manage their virtual in-game assets!The token will also be the Medabots NFT Marketplace's native currency.
Staking Medabots On SafeSwap Online
SafeSwap online will provide Medabots with a Staking mechanism. This is similar to bitcoin mining, only it only applies to blockchain that utilize a proof of stake (PoS) algorithm, such as SafeSwap online. The first step in learning about staking is to understand what Proof of Stake is and how it works. It's a method that makes block chains more likely to perform efficiently while maintaining a degree of decentralization. It uses a lot less energy, but it requires a big amount of coins for that particular cryptocurrency such as Medabot.io.
The previous MEDA > MEDA pool is still open, but it has reached its participation maximum in less than four hours.The two new pools were designed to deliver the most benefit of any pool we've launched thus far.There are two different pool types in the new MEDA > MEDA staking poolsSafeSwap will facilitate new staking pools for MEDA. SafeSwap™ launched pools for staking Medacoin, there were total of two pools. The total stake size of pool one was Max per person 5.000.000 (5 million) and the Deposit fee was 5%. The total stake size of pool two was Max per person 100,000 and Deposit fee was 5%Reward pool Size of both was MEDA.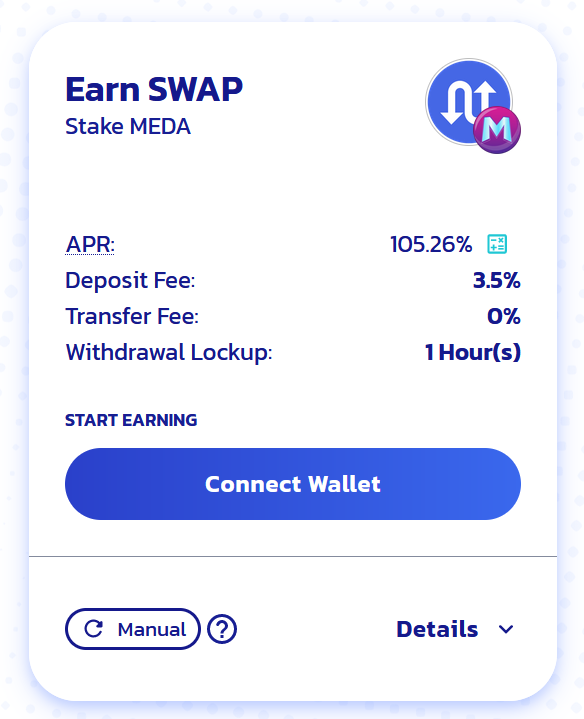 New Staking Pools For MEDA
Take part in SafeSwap Online's new MEDA Staking pools.We've just launched a new MEDA SWAP staking pool.This pool was developed as a thank you to the Medabots team for all of their help and dedication to SafeSwap.3500 SWAP is the total reward size.2,000,000 MEDA is the maximum stake amount per user.Total Maximum Stake: 150,000,000 MEDASWAP has a total supply of 1 million tokens.Swap value as of 05/11/21 is $0.87.Additional Staking Pools for SWAP: Stake SWAP, Earn SWAP ( 5 percent of the total supply allocated over 2,5 Years)BNB LP Earn SWAP Stake SWAP Stake SWAP Stake SWAP Stake SWAP Stake SWAP Stake ( 15 percent of the total supply allocated over 10 years).Fee for staking: 3.5 percent of your MEDA deposit.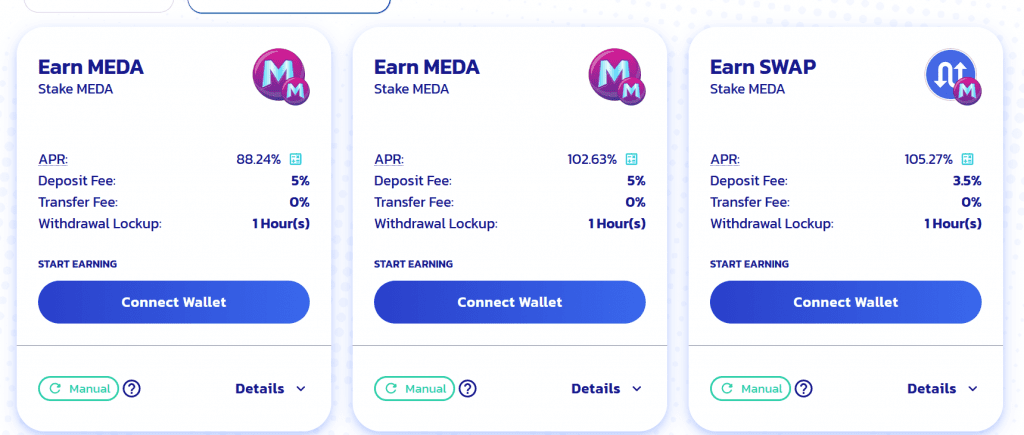 Trading Medabots On SafeSwap Online
SafeSwap™ will provide Medabots with trading mechanism. Medabots are currently tradeable on SafeSwap online platform after their collaboration. SafeSwap Online allows traders and holders of SWAP Liquidity to engage in a number of interest-based earning programmes that are directly tied to the SWAP Liquidity Pool, SWAP Tokens, or one of our listed partners' assets. We intend to add a variety of staking and other earning opportunities. All transactions and operations under the SafeSwap online are controlled and governed by the SafeSwap™ community itself. After the KYC process is completed and all the required documents are verified by the SafeSwap™ exchange, a Medabots investors can begin trading in cryptocurrency. SafeSwap Online exchange function 24 hours round the clock and don't have opening or closing hours like normal stock exchanges.Just like that after trading on SafeSwap Online, Medabot investors can either store the crypto currency in a digital wallet or can withdraw it in the form of money.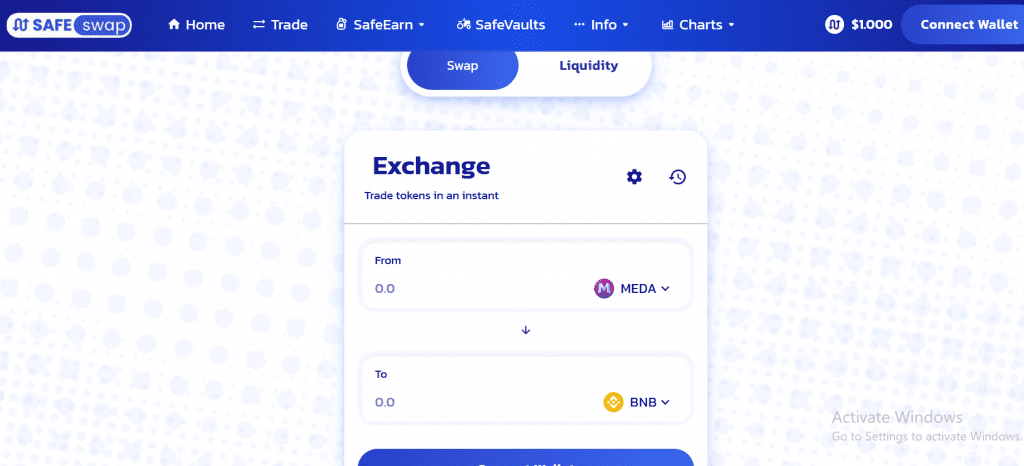 Whale Pool For MEDA
For years, the bitcoin trading community has been dispersed. It's tough to build long-lasting groups that survive when the greater crypto community is so focused on individualism, decentralization, and anarchocapitalism. Whale pool as a community aims to educate and welcome new traders to the field in addition to providing places for traders to gather and exchange ideas. SafeSwap™ will soon launch whale pool for MEDA. The group's major focus is bitcoin trading, hence market movement on Bitcoin spot and futures prices is the main topic of discussion. SafeSwap online is a part of Whale pool and now Medabots will also be a part of this community.